The Young Lawyers Section works to promote the interest of young and newly admitted lawyers. The section meets at 12:00 p.m. noon (MT) on the third Tuesday of the month at The Law Center, 525 W. Jefferson Street in Boise. Participation via telephone conference is also available.
---
Upcoming Meetings & Material
Next Meeting: Agenda | Material
To receive credit for the Section Meeting's CLE, click here.
Upcoming Events & Section Sponsored CLEs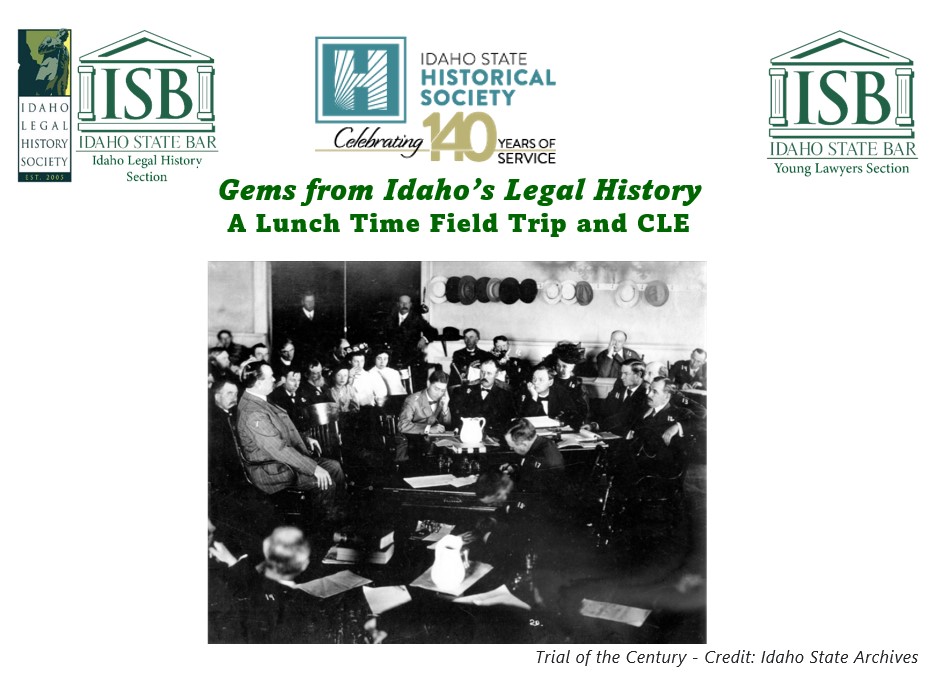 Join the ISB Idaho Legal History and Young Lawyers Sections for a special lunch time field trip to the Idaho State Archives to view the special exhibit, Gems from Idaho's Legal History.
Friday, November 5, 2021
12:00 – 1:30 pm
Idaho State Archives
2205 Old Penitentiary Road – Boise
Included will be a ½ hour CLE presentation, Researching the Idaho State Archives and Library presented by Danielle Worthy, Idaho State Archives and Ernest A. Hoidal, Ernest A Hoidal, Attorney at Law.
Lunch will be provided but space is limited to the first 30 attendees to register. To register, please click HERE.
Gems from Idaho's Legal History explores Idaho's modern legal history dates to 1863, when President Lincoln created Idaho Territory and appointed three Territorial Supreme Court Justices through statehood in 1890 and beyond. This exhibit, featuring collections of the Idaho State Archives, highlights the people and places connected with Idaho's legal history.

If you cannot make the meeting, the Gems from Idaho's Legal History exhibit will be open through the fall season during regular business hours, Tuesday to Saturday, 11 am-4 pm.
This meeting will take the place of the Young Lawyers Meeting that was scheduled for noon on November 16th.
---
Section Membership
If you are interested in joining the Young Lawyers Section, complete the Section Registration Form and return it with payment to Dayna Ferrero at the Idaho State Bar, PO Box 895, Boise, Idaho 83701. To make payment online, please detail that you are paying for dues for the Agricultural Law Section, please use the Online Payment Form and list the YLS section dues in the payment description.
2021 Standard Membership Dues – $35
Law Students – $10
NOTE: To be eligible for Standard Membership in the Young Lawyers Section, you must be under the age of 37 or admitted to ISB for less than 5 years.
To view the section's by-laws, select: Young Lawyers Section By-Laws.
Get Started with Clio today. Idaho State Bar Young Lawyers' Section Members are eligible to receive: 90 days free access to Clio; 50% discount for 6 months; and 10% lifetime discount. To take advantage of this great deal, select YLS GO CLIO.
---
Section Officers
Chairperson
CLE Chairperson
Vice Chairperson
Networking Chairperson
Secretary/Treasurer
At Large Council Members
---
Disclaimer
The Young Lawyer Section of the Idaho State Bar presents information on this website as a service to our members and others who provide legal services. Our goal is to provide sources of information that might be of value to bar members and the general public.
While this web-site endeavors to be accurate and timely, nothing contained herein should be taken as legal advice. We make no warranty or guarantee concerning the accuracy or reliability of the content at this site or of other sites which may be linked to this site.