The Intellectual Property Law Section of the Idaho State Bar promotes the education, training and networking opportunities of attorneys who practice in the area of Intellectual Property Law. The section meets at 12:00 p.m. noon (MT) on the third Thursday of February, April, June, August, October and December at The Law Center, 525 W. Jefferson Street in Boise. Participation via telephone conference is also available.
Announcements
Proposed Amendment to By-Laws regarding Section Officers' Term of Office
Intellectual Property Law Section Council Meeting, Open to Section members - To be held on Monday,  November 27, 2017 at 1:30 PM at the ISB building at 525 Jefferson Street.  This meeting is to discuss scholarship requests and funding requests by the University of Idaho pursuant to matters discussed in the prior section meeting.  This meeting is in addition to the monthly Intellectual Property Law Section meeting in December.  You may also participate by telephone conference call by dialing 888-706-6468 and entering participant code 8215461.
Section Scholarship Awarded, December 2016
The Intellectual Property Law Section has awarded a $1,000 scholarship to University of Idaho College of Law 3rd year student, Marcus Johnson. Pictured below, Chairperson William Pigot (left) awards the scholarship to Marcus Johnson (right).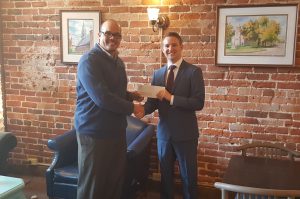 Disclaimer
The Intellectual Property Law Section of the Idaho State Bar presents information on this web site as a service to our members and others in the field of labor and employment law.  Our goal is to provide information of value to attorneys practicing in this area.
While this website endeavors to be accurate and timely, we make no warranty or guarantee concerning the accuracy or reliability of the content at this site or of other sites which may be linked to this site.  Nothing contained in this website should be taken as legal advice.