Sponsor:  Idaho Law Foundation, Inc. in partnership with Destination CLEs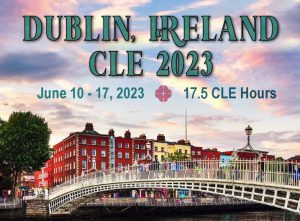 Join Destination CLEs and earn up to 17.5 CLE credits!
Details on the CLE courses and registration fees can be found in the conference brochure.
CLE Sessions include:
Digital Data
International Humanitarian Law
Virtual Access to Justice
Tax and Dual Citizenship
Irish Criminal Courts Procedure
Irish Solicitor Training
EU Law-Making, Goods and Services
Business Immigration
DAO
Attorney Alcohol Abuse
For more information, please contact Mary DeSpain at 907-231-2111 or Mary@DestinationCLEs.com.