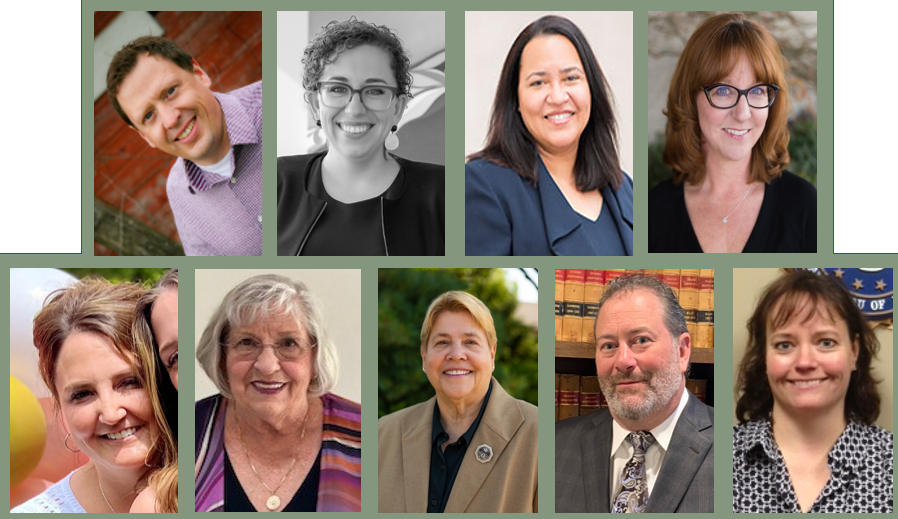 Published August 2022
Service Awards
The individuals selected for this years' Service Awards include attorneys and non-attorneys alike who have committed their time and expertise to the service of the legal profession. Whether it is serving in leadership or in a more intimate setting, these individuals are dedicated to the betterment of the profession. In addition to providing biographical information, the recipients were asked to answer the following two questions:
First, why is serving your community, personally or professionally, a priority to you?
And, what advice would you give your younger self as you entered your law practice or began your career?
Kimmer W. Callahan – Coeur d'Alene
Why Service: "In my career, and personal life, I have had the benefit of those who have gone before me, who have chosen to give and serve, willing to invest time and effort in helping me along the way. It is an honor to be able to do the same for others. The Idaho Bar that I joined years ago felt more like the joining of a fraternal order than of a group of advocates or competitors. It is my hope and desire that I have and will do my part to continue that legacy."
Advice: "Advice I wish I had received and followed was, get involved in the legal community, serve, and get to know your fellow attorneys outside of the courthouse. If we respect each other as people first, it will be easier to respect each other as advocates of clients. Advice I was given and have tried to follow: Look in the mirror every day and make sure that you are okay with the person/professional you are becoming."
Kimmer Callahan graduated from Gonzaga University School of Law in 1995, and received his LL.M. (Taxation) from the University of Denver in 1996. He was admitted to the Idaho State Bar in 1995. After a few years of practicing as an associate attorney in the areas of income tax, and then estate planning, Kimmer opened his own firm, Callahan & Associates, Chtd., in Coeur d'Alene. His practice has primarily focused on the areas of estate planning, probate, and elder law. He received his Estate Planning Law Specialist designation in 2014 and was established as a Fellow of the American College of Trust and Estate Counsel (ACTEC) in 2019. He has been an active member in a variety of leadership roles in the Idaho State Bar's Taxation, Probate & Trust Law Section.
Catherine A. Freeman – Boise
Why Service: "I love being a lawyer and I consider it a privilege to practice in our community. Because of this, I want to do whatever I can to improve the legal system for my fellow Bar members and for other individuals involved in Idaho's legal system."
Advice: "Keep showing up and being prepared. This will get you father than you'd guess."
Catie Freeman is a trial lawyer with Gjording Fouser, representing businesses, public entities, and professionals in complex business, employment, and insurance defense litigation. Catie is the current Secretary of the Idaho State Bar's Professionalism & Ethics Section and the current chairperson of the Section's Anti-Discrimination and Anti-Harassment Committee. Catie is also a member of Idaho Women Lawyers and American Inns of Court No. 130.
Tracy W. Gorman – Idaho Falls
Why Service: "Serving on the character and fitness committee and the magistrate commission has taught me so much about the professional process. I know that I am a better practitioner because of it."
Advice: "You do not have to take every case that comes through the door, and you should not if you do not believe in the client's goal."
Tracy Gorman is from Seattle, Washington. She started out in the Army Nurse Corps and after leaving active duty, attended law school at Georgetown University in Washington D.C. She relocated to Idaho Falls in 2002 with her family. Tracy took the Idaho Bar Exam in 2007 and began practicing family law – in her mid-forties. Being in a small community like Idaho Falls has given her so many opportunities – personally managing her caseload, taking cases to trial, and sometimes even the Idaho Supreme Court. She is grateful for the career that he has had and for practicing in an area where members of the bench and bar actually seem to like each other.
---
Jennifer A. Hearne – Boise
Why Service: "I have realized SO many great benefits from serving my community. Perhaps, the most rewarding aspect has been the satisfaction that comes from helping people. There is a special type of intrinsic compensation that comes from assisting someone who would not otherwise have access to an attorney. I've also discovered a number of practical benefits to volunteer service. For example, grading bar exams or serving as an office with the Fourth District Bar Association is much more fun than spending a bunch of money on law firm advertising. Volunteer service has been instrumental to establishing an incredible network of likeminded attorneys. We regularly consult one another and share referrals, something not always easy to do as an attorney in solo practice. Whether intrinsic or practical, the benefits I've received from serving my legal community are invaluable to my law practice and to my personal sense of self-worth."
Advice: "Hello Young Jen – Please don't be afraid to ask for help. There are many, smart attorneys out there who are willing to lend a hand. As you gain experience, you will have the opportunity to give back by helping others!"
Jennifer Hearne is a lifelong Idahoan and the principal of Hearne Law, PLLC where she practices employment law. Jennifer's legal clients include small business owners with a desire to become or maintain their status as an employer of choice, and individuals with an employment-related conflict. Jennifer attended Boise State University where she earned her bachelor's degree in business administration. Fifteen years later, she was admitted to the University of Idaho College of Law where she earned recognition as a Dean's list scholar and served as the Senior Blue Book editor for "the Crit," the law school's critical legal studies journal. After graduating from law school in 2011, Jennifer spent six years as In-House Counsel and Director of Human Resources for a private post-secondary college before taking an Associate position with a law firm in Boise. In 2017, Jennifer opened Hearne Law, PLLC, allowing her the opportunity to focus her practice on employment law matters.
Jennifer is an active member of the Employment & Labor Law and Business & Corporate Law Sections of the Idaho State Bar. She currently serves as Vice President for the Fourth District Bar Association and the Treasurer for Idaho Women Lawyers. Jennifer is also a member of National Ski Patrol and has been a volunteer for Bogus Basin for the past nine years. Jennifer is the proud mother of two amazing sons. Together, they enjoy boating, skiing, hiking, cooking, and laughing at every opportunity.
---
Jolene C. Maloney – Boise
Why Service: "As attorneys we work in what is often a high stress and high stakes environment. Our clients, many of them in crisis, are under tremendous pressure. I believe these challenging and difficult realities are better managed, and better outcomes achieved, when we as professionals support and assist each other when opportunities present themselves. Support may manifest itself in many ways: simple encouragement, checking in which each other, addressing mental health, addiction and trauma, or being brave enough to be vulnerable to share our personal struggles so our colleagues feel connected in this community. Service to our legal community is important to me because I am the beneficiary of such professional kindness and grace. I have experienced its life changing impact. I must thank Bill Wellman, Anthony Geddes, the criminal defense bar, and certain members of the judiciary for their professional support and encouragement in my times of need."
Advice: "Practicing law as a criminal defense attorney is an intense and demanding career. The circumstances and cases we deal with matter a great deal to those affected. Doing this work demands significant attention and commitment. While we invest ourselves in our cases and clients, we must not lose ourselves in them. We must remind ourselves that our disagreements are not personal but professional. We should work hard to cultivate cordiality and respect. Recognize the good work of your colleagues. Take the time to celebrate their triumphs with them and offer encouragement at times of disappointment. The professional community that you develop will likely have an impact on how satisfied you are in your career. Managing professional stress appropriately will give you the space to be present for your children, spouse, and friends."
Jolene Maloney graduated from the University of Idaho College of Law and was admitted to the Idaho State Bar in 2004. She has spent her career in the area of criminal law. She has a private practice in Boise, Idaho and her primary practice is working with indigent clients throughout the Treasure Valley.
---
Sherry Montosa (NL) – Boise
Why Service: "I worked with esteemed attorney Merlyn Clark, for 32 years and he set a fine example of giving back to the community as well as having the highest legal standards. He taught me the standards of professional conduct and I believe it is extremely important to see that our legal community meets the highest standards. I enjoy serving on the Professional Conduct Board to help the Bar assure that those standards are met."
Advice: "I grew up in Boise and my younger self did not have the experience to realize that women could have a career other than housewife, teacher, nurse, or secretary. I would tell my younger self to dare to do other than the conventional. I was not exposed to the legal profession until I had embarked on my working career, knowing what I know now, I would have enjoyed pursuing a career as an attorney."
Sherry Montosa attended Boise High School and after gradation in 1966 moved to Moscow, Idaho where she worked in the Physics Department and was secretary to eight professors and 15 graduate students – all with no computer. Her work was done on an electric typewriting with carbon paper. Sherry was excited when she got her first IBM with correction tape! She worked in the Alumni Office at the University of Idaho, then at Boise Cascade, for the Adams County Prosecutor, and then for Merlyn Clark at Hawley Troxell for 32 years. Sherry retired in 2017, was accepted to serve on the Professional Conduct Board, and has served since retirement.
---
Jamie C. Shropshire – Boise
Why Service: "I learned early in life from my mother the importance of sharing your resources and time with the community and your profession. She was always my best example. For many years, she operated a care house for her church that supplied food and clothing for free. She taught my brothers and me that giving to others brings joy to the giver and the receiver. As a government attorney for most of my practice, I had to find ways to volunteer for the Idaho State Bar. I chose grading and writing bar exams and volunteering on the Lawyer Assistance Program Committee. Both have been very rewarding. I was also honored to serve for 12 years on the Domestic Violence and Victims Assistance Council and was an initial member of the Juvenile Corrections Custody Review Board. As the daughter of a WWII Army Air Corps pilot and the surviving spouse of an Air Force veteran, I especially enjoy volunteering with veteran's organizations and projects. One of which was the Wills Clincs sponsored by the Idaho Volunteer Lawyers Program and the Idaho Military Legal Alliance. While in Lewiston, I worked with veterans, veteran's organizations, and the Courts in the Veterans' Treatment Court where it was rewarding to see men and women who had honorably served this country overcome serious setbacks."
Advice: "Do what you love and don't' worry about a paycheck. As attorneys, we spend too many hours at the office and too often bring work home. Learn to take care of yourself. The profession is stressful enough if you don't enjoy your work. It affects your family and friends when you suffer from stress and anxiety. You will live longer and happier if you care about your health. As a new attorney, find someone who you can talk to about the areas of your practice with which you may be less familiar."
Jamie Shropshire is a native Idahoan, born in Boise and raised in Nampa. She graduated from Lewis and Clark College in Portland, Oregon and majored in biology with an emphasis on genetics. She then graduated from Santa Clara University Law School in 1983 and was admitted to the California State Bar that same year. She was later admitted to the Idaho State Bar in 1988. Jamie retired in 2015 and is now an Emeritus attorney. She lives with her four-legged only child, Allie, who brings her great joy and keeps her looking ahead. Jamie loves having time for photography and writing.
---
T. Matthew Stoppello – Boise
Why Service: "I am an Idaho native who grew up in Eagle, Idaho with my parents and younger sister. I was given the opportunity from them to thrive growing up with a very active outdoor lifestyle. My parents always encouraged me, our surrounding neighbors, and friends to enjoy life and pursue every opportunity we could. Whether it be sports, academics, agriculture, or anything in between. I love this state, the community, and opportunities it holds for anyone who is willing to work for it. It has been a really tough couple of years for everyone, but this community has resilience and I am lucky to be a part of this community going forward."
Advice: "The advice I would give myself would be to just 'slow down.' There are really good members of the Bar and this community that are mentors and people that are willing to sacrifice their time and energy helping you be successful. Listen to them and learn. I was very lucky as my career started as an Ada County Deputy Prosecutor under Greg Bower. From day one, I was provided with the hands on training, assistance in learning, and opportunities to grow."
After Matt graduated from high school he joined the United States Marine Corps. His dad, both of his uncles, and his grandfathers has served honorably in the military prior to his enlisting. After he returned to civilian life, he went to school to complete his bachelor's degree in criminal justice. Upon completion he attended the University of Idaho College of Law and graduated in December of 2000. Upon graduation he joined the Ada County Prosecutor in the criminal division as a Deputy Prosecutor. He spent approximately four years with Ada County before he joined his dad's firm for another four years. In 2008, Matt started his own firm which he currently owns and operates with wonderful colleagues and staff that he couldn't do without.
---
Traci J. Whelan – Coeur d'Alene
Why Service: "It is important for each of us to be invested in rooting for and supporting the success of others. We succeed or fail as a group. I think we can see that in the current affairs in our nation. We lose our humanity when we refuse to serve those we don't know or don't agree with. This has not brought our society success but rather we can see the destruction and division. That is why serving each other is important."
Advice: "I would assure my younger self that we picked the right career. Although there is a lot of exposure to the heartbreaking actions of our fellow human beings, there is also a lot of exposure to redemption and success."
Traci J. Whelan is an Assistant United States Attorney and the Branch Manager of the Coeur d'Alene Branch of the U.S. Attorney's Office for the District of Idaho. She graduated from the University of Nebraska Law College in 1991 and was admitted to the Idaho State Bar in September of that year. Traci joined the U.S. Attorney's Office in 1998 after seven years as a Deputy County Prosecutor in Idaho. She has served as the tribal liaison for the Coeur d'Alene, Kootenai, and Nez Perce tribes for 23 years. Traci has received the U.S. Attorney General's Award for Excellence in Law Enforcement and commendations from the Director of the F.B.I. She is a member of the Idaho State Bar Professional Conduct Board. Traci's commitment to public service is based upon a belief that we have an obligation to treat people fairly and with respect.