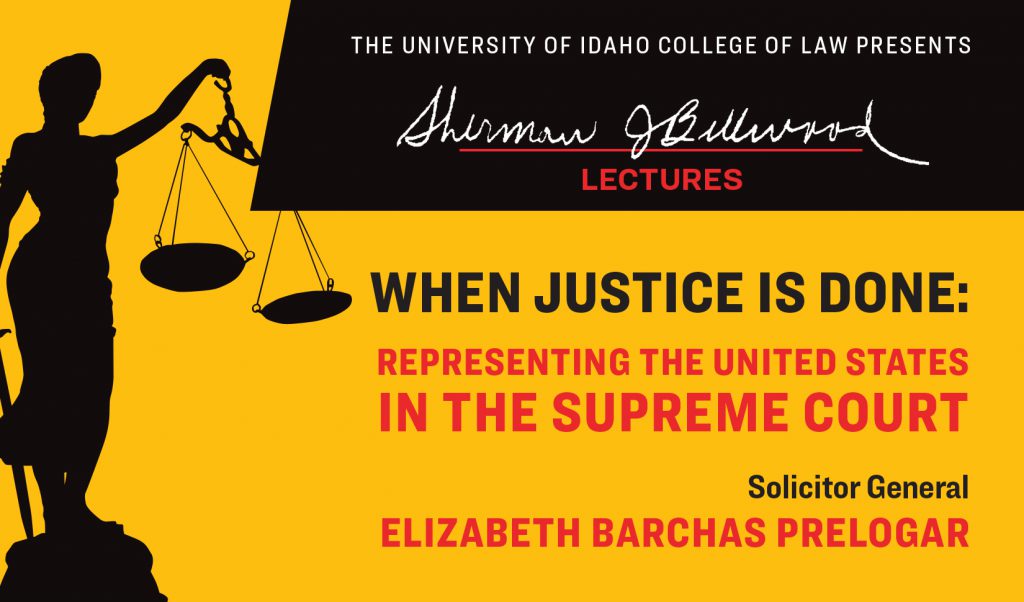 The University of Idaho College of Law, Idaho Supreme Court, and the Idaho State Bar invite you to attend the 2022 Sherman J. Bellwood Memorial Lecture featuring United States Solicitor General and Idahoan, Elizabeth Barchas Prelogar.
The event begins with opening remarks Tuesday, September 6, at 5 p.m. MDT at JUMP Boise and continues with the annual lecture Wednesday, September 7, at 3:30 p.m. PDT in the Pitman Center in Moscow. Wednesday's lecture and can be streamed live at uidaho.edu/live.
About Elizabeth Barchas Prelogar
Elizabeth Barchas Prelogar is the 48th Solicitor General of the United States and serves as the fourth-ranking individual at the Department of Justice. As Solicitor General, she is responsible for conducting and supervising all Supreme Court litigation on behalf of the United States.
About Sherman J. Bellwood
Throughout his distinguished career, Judge Sherman J. Bellwood was committed to the legal profession and to legal education. In one of his last and most generous contributions to legal education, Judge Bellwood endowed the Sherman J. Bellwood Lectures at the College of Law. According to the terms of his will, Judge Bellwood's purpose in establishing this endowment was "to enable the College of Law to invite and present persons learned in the law to lecture on legal subjects from time to time."
The Sherman J. Bellwood Lectures bring prominent and highly regarded local, regional, and national leaders to the state of Idaho and the University of Idaho campus. Past speakers include senators, Supreme Court justices, and a former United State Attorney General. Now split between its two beautiful locations, the Bellwood Lecture ties Moscow and Boise together and provides the current student body an experience unique to Idaho Law. This endowment is the largest endowed lectureship at the University of Idaho.