---
In 2017 The Path to Lawyer Well-Being: Practical Recommendations for Positive Change was published by the National Task Force on Lawyer Well-Being. The report has become the catalyst for efforts to improve the well-being of lawyers nationwide and here in Idaho.
What Is Attorney Well-Being?
The meaning of "well-being" is:
Maintaining well-being is part of lawyers' ethical duty of competence. It calls for healthy, positive choices to assure that lawyers can be their best for their clients, families, organizations, and communities. Further, to be their best, lawyers depend on a large number of important contributors who are not lawyers. Therefore, well-being across the legal profession is an important goal.
The Task Force's definition of well-being is not defined solely as an absence of dysfunction; nor is it limited to feeling "happy." Full well-being is multi-dimensional and requires things like connection, belonging, continual growth, and aligning our lives with our values. It requires that we take care of all aspects of our lives.[1]
CLEs Available
Attorney Well-Being: ISB Survey Results, Resources, and Next Steps – FREE CLE – Now Available On-Demand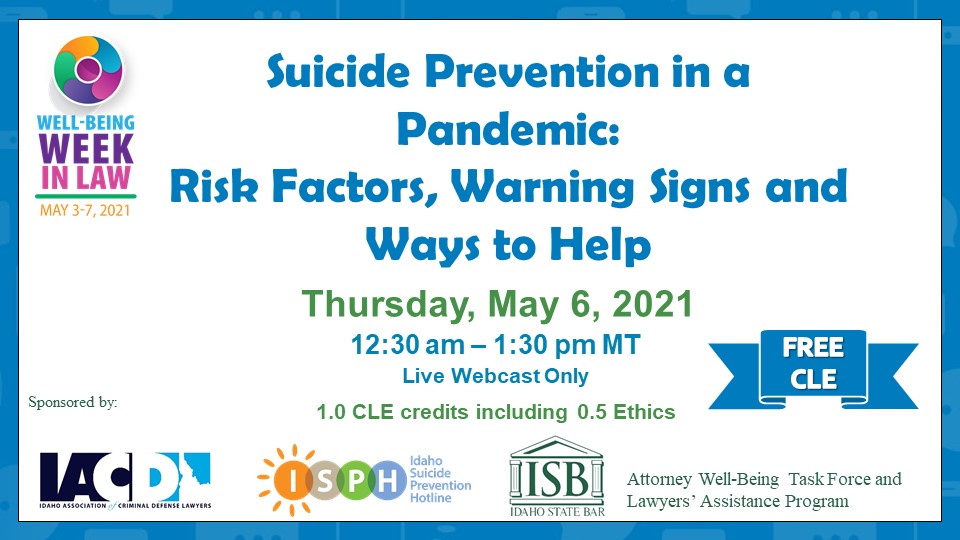 Suicide Prevention In A Pandemic: Risk Factors, Warning Signs and Ways to Help – FREE CLE – Now Available On-Demand
ISB Fall 2020 Survey Results
Idaho Survey on Attorney Well-Being
One of the first tasks of the Attorney Well-Being Task Force was to establish a baseline assessment through out the state. The best way to accomplish this was to conduct a survey.
The survey questions were drafted by members of the Task Force using resources available from surveys conducted in other states and they also sought counsel and review of the survey by experts in the field, including the co-chair of the National Task Force. The Idaho survey consisted of three types of questions:
(1) well-being status questions;
(2) questions about knowledge of and access to well-being resources; and
(3) demographic questions.
The survey was distributed in October 2020 via email with encouragement from the Board and members of the judiciary to complete it.
The typical time spent by those taking the survey was 6 minutes and 5 seconds.
The results of the survey were tabulated and will be used by the Task Force in the development of resources that will be made available to ISB members. The Task Force anticipates these resources may include a website, educational course offerings, and social functions. Below is a link to view the survey results.
Resources
Educational Courses, Toolkits and Websites
ISB Program – Attorney Well-Being: ISB Survey Results, Resources, and Next Steps – FREE CLE – 1.0 CLE credits of which 0.25 it Ethics
ISB Program – Lawyer Well-Being: What's It Got to Do with Me? – 1.5 CLE credits
ISB Program – Well-Being and Trauma Responsive Workplaces – FREE CLE – 1.0 Ethics credits
ABA Program – The Path to Lawyer Well-Being: Practical Recommendations for Positive Change (Oct. 16, 2017)
Mindful Mondays and Wakeful Wednesdays – Weekly 30-minute "virtual sit" sessions hosted by the Mindfulness in Law Society.
Well-Being in Law Week Resources – Information for individuals and organizations
CLEs
Suicide Prevention In A Pandemic: Risk Factors, Warning Signs and Ways to Help – Sponsored by the Idaho State Bar Attorney Well-Being Task Force, Lawyers' Assistance Program, the Idaho Association of Criminal Defense Lawyers with funding provided by the Idaho State Liquor Division Mini-Grant Program, May 6, 2021 – 1.0 CLE credits
Articles, Blogs and Reports
What Law Students Absolutely Need To Know To Ace Law School
Is Your Smartphone Making You Less Smart? Distraction Addiction Is Real
To Boost Productivity, Lawyers and Law Students Should 'Socially Distance' From Their Phones
Suffolk Law professor writes book tackling … um, one sec … oh distractions
Time Magazine articles on Mental Health in the Workplace
Mental Health Resources for the Legal Profession During COVID-19
The Path to Lawyer Well-Being: Practical Recommendations for Positive Change
Stress, drink, leave: An examination of gender-specific risk factors for mental health problems and attrition among licensed attorneys
The Wellness Issue – Journal of the Delaware State Bar Association
What Lawyers Can Learn from Simone Biles
Podcasts
Mindful Lawyering with Shailini George
What Students Absolutely Need to Do to Ace Law School with Shailini George – Episode 67
Path to Well-Being in Law Podcast
The Resilient Lawyer
Attorney Mental Health and Wellness
Loving Life as a Lawyer: How to Maintain Joy in Your Work
The Gen Why Lawyer Podcast on Mental Health
Voices of Recovery Series
The Psychology Podcast: How to Be a Happy Lawyer
ABA Asked and Answered: How Lawyers Can Bring Mindfulness Into Their Practice
**The above programming is intended for educational purposes only and may not meet the mandatory continuing legal education requirements in Idaho. You will not receive CLE credit for viewing/listening unless it has been approved. You can check to see the approved CLE courses here.
ISB Attorney Well-Being Task Force
The Attorney Well-Being Task Force (AWBTF) was formed in February 2020 by the Board of Commissioners of the Idaho State Bar to improve the well-being of the legal profession in Idaho. The Task Force brings various representatives from sections, committees, and practice groups together to investigate obstacles to well-being in the profession and identify resources to help attorneys, judges, law students, and related staff members not only survive but thrive in their professional and personal lives.
Please feel free to reach out to members of the Task Force if you have ideas for programs or resources that would be helpful to others or if you have questions. Teresa Baker, the ISB staff liaison is also available at (208) 334-4500.
Task Force Members
Well-Being in Law Week Daily Activities
The Idaho State Bar Attorney Well-Being Task Force invites you to celebrate Lawyer Well-Being Week, May 1st through May 5th, 2023. Join other members of the profession, the courts and support staff by participating in these free remote-friendly activities.
We will focus on a different aspect of well-being Monday through Friday. Every day you will have at least three different suggestions for activities and education. This "well- rounded" wheel shows the well-being emphasis for each day of the week. There is something for everyone!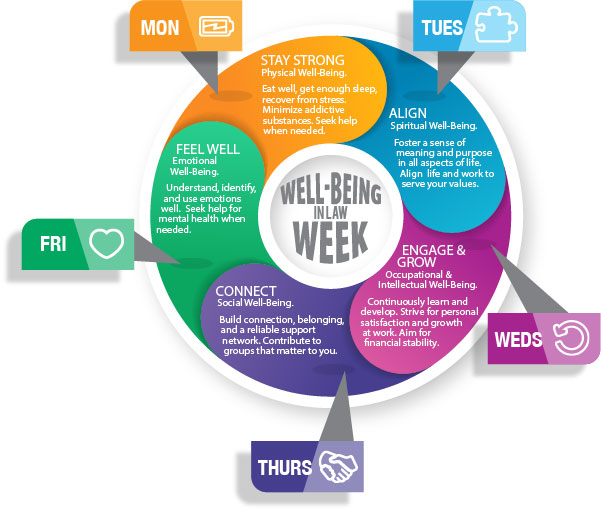 LISTEN TO THIS: The Joy of Movement, podcast interview of Dr. Kelly McGonigal about the latest research on why movement is so important for many facets of our wellbeing, 41 mins.
READ THIS: Reframe How You Think About Self-Care by Liane Davey. You might want to reconsider whether squeezing more into today is worth sacrificing what you can contribute tomorrow.
DO THIS: Get Moving Challenge. Peruse the Get Moving Activity Guide and pick a physical activity that you haven't tried before and try it out this week. Inspire others by posting about it on social media using the hashtag #WellbeingWeekInLaw.
Exercise is the key not only to physical health but to peace of mind. – Nelson Mandela

WATCH THIS: Nature. Beauty. Gratitude TED talk, 9:30 mins. Time-lapse photography of awe-inspiring nature scenes with powerful words from a Benedictine monk as a meditation on being grateful for every day.
READ THIS: 21 Spiritual Goals to Grow in 2022 by Connie Mathers. Setting spiritual goals helps us connect to our spiritual side and gain clarity on the purpose of your life.
DO THIS: Cultivate Your Sense of Purpose. Take a free Purpose in Life Quiz and receive automatic feedback and recommendations for purpose-building activities, courtesy of the non-profit Greater Good Magazine.
The meaning of life is to find your gift. The purpose of life is to give it away. – Pablo Picasso

LISTEN TO THIS: How to Be Happier at Work, 54:29 mins. On the Happiness Lab Podcast, Yale psychologist Dr. Leslie Santos talks with Dan Harris (from Ten Percent Happier) about how to find greater happiness at work.
READ THIS: Positive Psychology in the Workplace by Brad Desmond. Founder of positive psychology Dr. Martin Seligman's "PERMA" model offers five pathways to well-being. Learn how to apply them at work.
DO THIS: After reading the article above, take the Workplace PERMA Profiler (it's free on U Penn's Authentic Happiness website; you'll just need to set up a free account). Make a plan (individually or with your work team) to increase one PERMA element over the next month.
"Passion for your work is a little bit of discovery, followed by a lot of development, and
then a lifetime of deepening." – Angela Duckworth, psychologist and author of Grit

WATCH THIS: Creating More Lollipop Moments, TEDx talk, 6 mins. Drew Dudley talks about how everyday acts of kindness or social connection can have a large impact.
READ THIS: Want Stronger Relationships at Work? Change the Way You Listen by Manbir Kaur. Conversations that encourage cooperation and understanding result in the release of hormones like oxytocin that reinforce a bonding experience.
DO THIS: Be a Joy Multiplier. Read about how enthusiastically responding to others' good news (called Active Constructive Responding or ACR) builds trust and connection. Then peruse an ACR Worksheet created by the Consortium for Health and Military Performance (yes, the U.S. military teaches ACR!) and get started today practicing your ACR skills to build stronger relationships.
"That which isn't good for the hive, isn't good for the bee." – Marcus Aurelius

LISTEN TO THIS: The Amazing Impact of Self Talk and How to Master It, 1:07 hr, podcast interview of Dr. Ethan Kross, author of bestseller Chatter: The Voice in Our Head, Why It Matters, and How to Harness It.
READ THIS: You've Done Self Care. You've Languished. Now Try This, by Brad Stulberg. As the pandemic slogs on, many of us want to feel motivated and get unstuck. An evidence-based practice called behavioral activation—committing to engaging in valued and enjoyable activities—might help.
DO THIS: Vanquish Languishing. After reading the article above, check out the Vanquishing Languishing Activity Guide. It offers guidance on how to use behavioral activation strategies to incorporate more enjoyable and valued activities into your life to foster greater engagement and vitality.
"Let's not forget that the little emotions are the great captains of our lives and
we obey them without realizing it." -Vincent van Gogh
Keep the Momentum Going Throughout May with the 31-Day Mental Health Challenge!
Check out this calendar for tips to make your life and work a little easier by focusing on yourself and you loved ones in the month of May.
Share Gratitude and Kindness with Others!
Easily send notes of gratitude, encouragement, and affection using IWIL's e-card form.
If you have suggestions for activities for the Attorney Well-Being Task Force, please feel free to email the chair Julie Stomper at julie@beardstclair.com.
Upcoming Events
There are not any events currently planned, but please check out the activities for Well-Being in Law Week that can be done year-round.
Mark your calendar for May 1st through 5th, 2023 when we will be celebrating the next Well-Being in Law Week.
[1] Institute For Well-Being In Law, The Path to Lawyer Well-Being: Practical Recommendations for Positive Change(August 15, 2017), https://lawyerwellbeing.net/the-report/