---
In 2017 The Path to Lawyer Well-Being: Practical Recommendations for Positive Change was published by the National Task Force on Lawyer Well-Being. The report has become the catalyst for efforts to improve the well-being of lawyers nationwide and here in Idaho.
What Is Attorney Well-Being?
The meaning of "well-being" is:
Maintaining well-being is part of lawyers' ethical duty of competence. It calls for healthy, positive choices to assure that lawyers can be their best for their clients, families, organizations, and communities. Further, to be their best, lawyers depend on a large number of important contributors who are not lawyers. Therefore, well-being across the legal profession is an important goal.
The Task Force's definition of well-being is not defined solely as an absence of dysfunction; nor is it limited to feeling "happy." Full well-being is multi-dimensional and requires things like connection, belonging, continual growth, and aligning our lives with our values. It requires that we take care of all aspects of our lives.[1]
CLEs Available
Attorney Well-Being: ISB Survey Results, Resources, and Next Steps – FREE CLE – Now Available On-Demand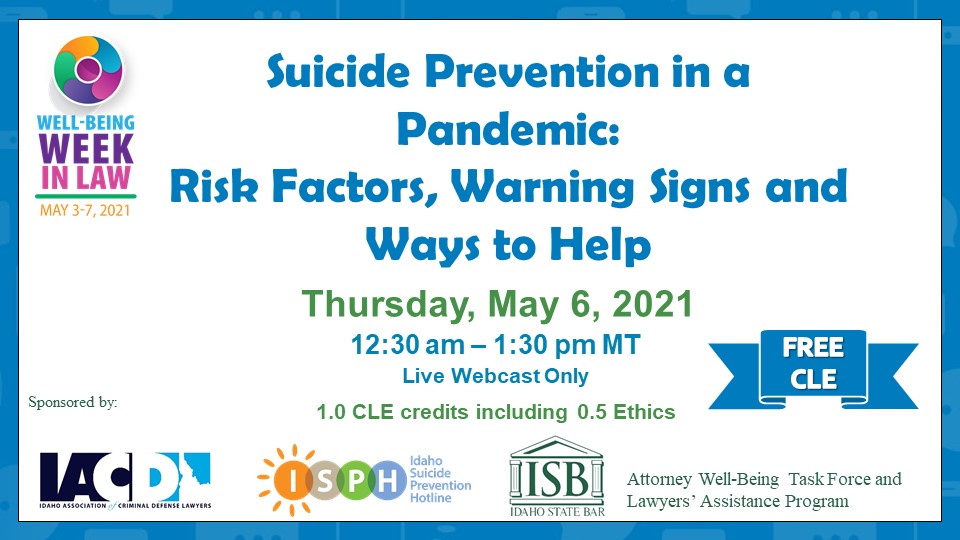 Suicide Prevention In A Pandemic: Risk Factors, Warning Signs and Ways to Help – FREE CLE – Now Available On-Demand
ISB Fall 2020 Survey Results
Idaho Survey on Attorney Well-Being
One of the first tasks of the Attorney Well-Being Task Force was to establish a baseline assessment through out the state. The best way to accomplish this was to conduct a survey.
The survey questions were drafted by members of the Task Force using resources available from surveys conducted in other states and they also sought counsel and review of the survey by experts in the field, including the co-chair of the National Task Force. The Idaho survey consisted of three types of questions:
(1) well-being status questions;
(2) questions about knowledge of and access to well-being resources; and
(3) demographic questions.
The survey was distributed in October 2020 via email with encouragement from the Board and members of the judiciary to complete it.
The typical time spent by those taking the survey was 6 minutes and 5 seconds.
The results of the survey were tabulated and will be used by the Task Force in the development of resources that will be made available to ISB members. The Task Force anticipates these resources may include a website, educational course offerings, and social functions. Below is a link to view the survey results.
ISB Attorney Well-Being Task Force
The Attorney Well-Being Task Force (AWBTF) was formed in February 2020 by the Board of Commissioners of the Idaho State Bar to improve the well-being of the legal profession in Idaho. The Task Force brings various representatives from sections, committees, and practice groups together to investigate obstacles to well-being in the profession and identify resources to help attorneys, judges, law students, and related staff members not only survive but thrive in their professional and personal lives.
Please feel free to reach out to members of the Task Force if you have ideas for programs or resources that would be helpful to others or if you have questions. Teresa Baker, the ISB staff liaison is also available at (208) 334-4500.
Task Force Members
Well-Being in Law Week Daily Activities
The Idaho State Bar Attorney Well-Being Task Force invites you to celebrate Lawyer Well-Being Week, May 3rd through May 7th. Join other members of the profession, the courts and support staff by participating in these free remote-friendly activities.
We will focus on a different aspect of well-being Monday through Friday. Every day you will have at least three different suggestions for activities and education. This "well- rounded" wheel shows the well-being emphasis for each day of the week. There is something for everyone!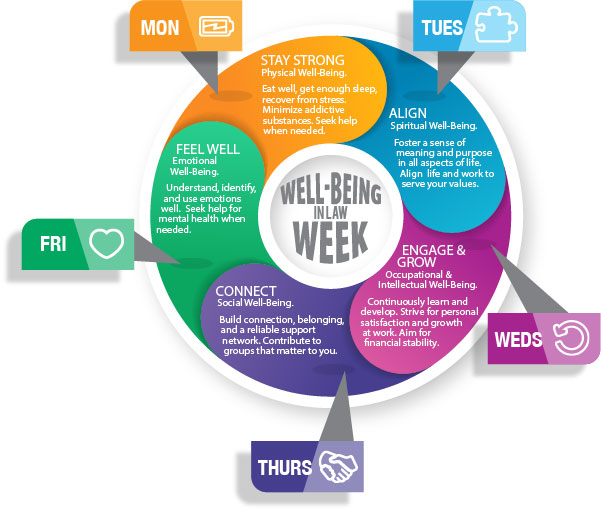 Upcoming Events
YLS Bocce Ball Throwdown Tournament – August 5, 2021 – 5:00pm
[1] Institute For Well-Being In Law, The Path to Lawyer Well-Being: Practical Recommendations for Positive Change(August 15, 2017), https://lawyerwellbeing.net/the-report/