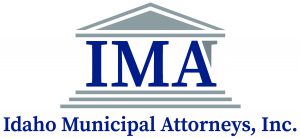 Summer Social for the ISB Government and Public Sector Lawyers and Idaho Municipal Attorneys Association
Thursday, June 17th
5:00 – 7:00 pm
Ochos Wine Bar
515 W. Idaho St. – Boise
Join the Idaho State Bar Government and Public Sector Lawyers and the Idaho Municipal Attorneys Association for a joint summer social on the patio at Ochos Wine Bar in Boise.  The fully hosted social will include a chance to mix and mingle with members of the two organizations.
To attend, please RSVP by Noon on Monday, June 14th to Charlie Wadams at cwadams@gardencityidaho.org.
Members of the Section are also invited to attend the Idaho Municipal Attorneys Summer Conference that will be held on Friday, June 18th at the Boise Centre.  Information is below.
Idaho Municipal Attorneys Summer Conference Agenda
Friday, June 18, 2021
8:00 am – 4:00 pm
The Boise Centre – West
Room: 110C
850 W. Front Street
Boise, Idaho
Registration for the IMA Summer Conference includes continental breakfast and lunch.
Agenda
8:00 – 8:20 a.m.       Continental Breakfast (Provided)
8:20 – 8:30 a.m.       Opening Remarks
8:30 – 9:30 a.m.       Personnel Investigations: Why? When? What? Who? How? (Kirtlan Nayor)
9:30 – 10:30 a.m.      Disciplining Employees to Avoid Claims: The Importance of Good Policies, Solid Documentation, and a Pre-Termination Checklist (Pam Howland)
10:30 – 10:45 a.m.   Break
10:45 – 11:45 a.m.   House Bill 389 Discussion (Phil Skinner, Kolby Reddish, Alan Dornfest)
11:45 -12:30 p.m.     Lunch (Provided) & IMA Board Meeting (Board members)
12:30 – 1:15 p.m.      IMA Business Meeting (all members), Election of Officers, & Awards
1:15 – 2:00 p.m.        Idaho Legislative Updates (Charles Wadams)
2:00 – 3:00 p.m.        Ethics (Brad Andrews)
3:00 – 3:15 p.m.        Break
3:15 – 4:00 p.m.        Open Mic Session
Registration Conference:
IMA Member – $65.00
Non-Member – $130
Please note that registration will close TODAY – Monday, June 7.  To register, please click HERE.
***This message has been sent to members of the Government & Public Sector Lawyers Section at the request of the Section Chair.  The Idaho State Bar sends email messages to its members on issues and events directly connected to the Idaho State Bar and the Idaho Law Foundation only. ***