Idaho Family Law Fall Conference 2021
Sponsored by the Idaho State Bar Family Law Section
Friday, October 22nd
9:00 am – 6:00 pm
and
Saturday, October 23rd
9:00 am – 11:15 am
*In-Person Attendance Only
Limelight Hotel
151 W. Main St.  – Ketchum
Please be sure to book your stay at the Limelight Hotel by Wednesday, September 22nd. 
8 CLE credits of which 1.0 is Ethics (pending)
Registration:
Family Law Section Members: $250
Standard Registration: $300
*All Attendees Will Receive a Copy of the Newly Available 2021 Family Law Form Book.
*All attendees are encourage to be fully vaccinated for COVID-19 prior to the conference. We will be following all state, local, and host facility rules, regulations and safety procedures and guidelines that are in effect at the time of the conference.
Keynote Speaker:
Matthew Goerke
The Memory Switch and How It Can Improve Your Practice
Matthew Goerke is regarded as one of America's leading experts in the field of Memory Development. He will be speaking on the role that memory plays in the practice of law and how you can train your memory to improve your trial skills by giving you techniques to allow for quick recall of important facts and technical data along with important dates and even daily appointments.
He has shared with thousands of business professionals from all walks of life the techniques for developing an instant recall memory with results that can only be described as amazing. Matthew has worked with such well known speakers as Zig Zigler, Ed Forman,Vic Conant and Tony Robbins. He has trained executives from corporations including AT&T, Prudential, Exxon,Wells Fargo, Merck Pharmaceutical and Coldwell Banker, and government agencies such as the United States Postal Service and the Defense Department. Matthew has also had a tremendous impact in educational settings, having personally trained thousands of students and teachers at all academic levels.
Matthew is the developer of the "Memory Switch Program" the most utilized program of its kind ever developed and for that reason is a sought after guest and has appeared on hundreds of radio and television talk shows.
Conference Agenda
Friday, October 22, 2021
9:00 am         The Memory Switch and How It Can Improve Your Practice
                         Matthew Goerke, The Memory Switch, Hackettstown, New Jersey
10:00 am         Divorce Lending
                         Tara Lloyd, Gateway Mortgage Group, LLC
11:00 am         Break
11:15 am         Ethics in Family Law
                         Thomas D. Smith, Spinner, Wood & Smith
12:15 pm         Hosted Lunch
1:30 pm           The Idaho Lawyers Assistance Program
                          Jamie Shropshire, Chair, Idaho State Bar Lawyers Assistance Committee
2:30 pm           Break
2:45 pm           Amendments to the Idaho Rules of Family Law Procedure
                         Hon. Diane Walker and Hon. Laurie Fortier, 4th Judicial District Magistrates
3:45 pm           Break
4:00 pm           Family Law Case Update
                         Mackenzie Whatcott, Cosho Humphrey LLP
5:00 pm           Networking Reception and Family Law Award of Distinction Presentation
6:00 pm           Conference Day 1 Concludes
Saturday, October 23, 2021
9:00 am           Evidentiary Issues in Family Law
                         Professor John Rumel, University of Idaho College of Law
10:00 am         Break
10:15 am         Motion Practice in Family Law
                         Hon. Laurie Fortier, 4th Judicial District Magistrate
11:15 am         Conference Day 2 Concludes
Lodging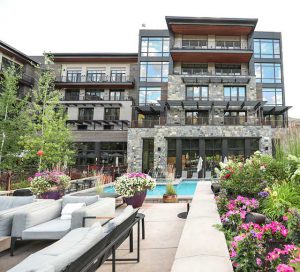 Limelight Hotel
151 W. Main St.  – Ketchum, ID
Rooms at the Limelight Hotel are now available to book by calling 888.218.3282 (between 7:30 am and 7:00 pm MT) or by emailing: ketchumreservations@limelighthotels.com.
The Run of the House Rate of $169/night will be available for the first 40 rooms booked.  There is a two-night minimum stay.  We encourage you to book your room early as Ketchum is a popular tourist destination.
Extend your stay in Ketchum! The $169/night rate applies for an extended stay three days before or after the conference based upon availability.
**Please note that rates are quoted per night.  Resort Fee and Tax: An 8% resort fee and 11% lodging tax will be added to the quoted guestroom rate.   A 50% deposit will be taken at time of reservation.  The remainder of the deposit will be charged thirty (30) days prior to arrival.  Any amendments or cancellations made within thirty (30) days prior to arrival will forfeit 100% of the reservation; amendments/cancellations made outside of the thirty (30) days will be refunded.