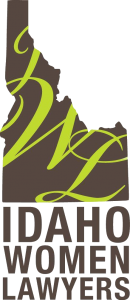 All Rise!  Mark your calendars – the IWL Gala is back!
The Idaho Women Lawyers are excited to get together for IWL's biennial gala (well, triennial in this case since COVID prevented the event from taking place last year) that will include an evening of dining, networking, and celebrating!
When: Thursday, April 28, 2022 from 6:00 p.m. – 9:00 p.m.
Where: Jack's Urban Meeting Place (JUMP)
Check the IWL event webpage HERE for tickets and more details as they are made available.