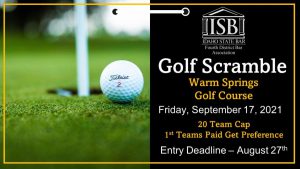 Registration Now Open
Entry deadline is August 27, 2021
Entry fee is $468 per team: team captains must send ONE check payable to Fourth District Bar to: Perkins Law, P.O. Box 1930, Boise 83701.
Entry fee includes green fee, three carts per team, lunch, entry into the putting tournament, drink tickets, and a golf towel.
Lunch will be served to all participants after the tournament. If COVID restrictions at the time of the tournament provide as such, lunch may be served to-go.
The first round of the putting contest will commence during the tournament on the putting green after your team completes Hole # 3. Final round is after lunch, so stick around!
Individuals who would like to enter without a team should email Angie Perkins at angie@angieperkinslaw.com and she will try to match you with a needy team.
Absolutely no outside alcohol permitted.
Access the REGISTRATION FORM HERE.
Email any questions to Angie Perkins at angie@angieperkinslaw.com
**This message has been sent to Fourth District members of the Idaho State Bar at the request of the Fourth District Bar Association President. The Idaho State Bar sends email messages to its members on issues and events directly related to the Idaho State Bar and the Idaho Law Foundation only.**