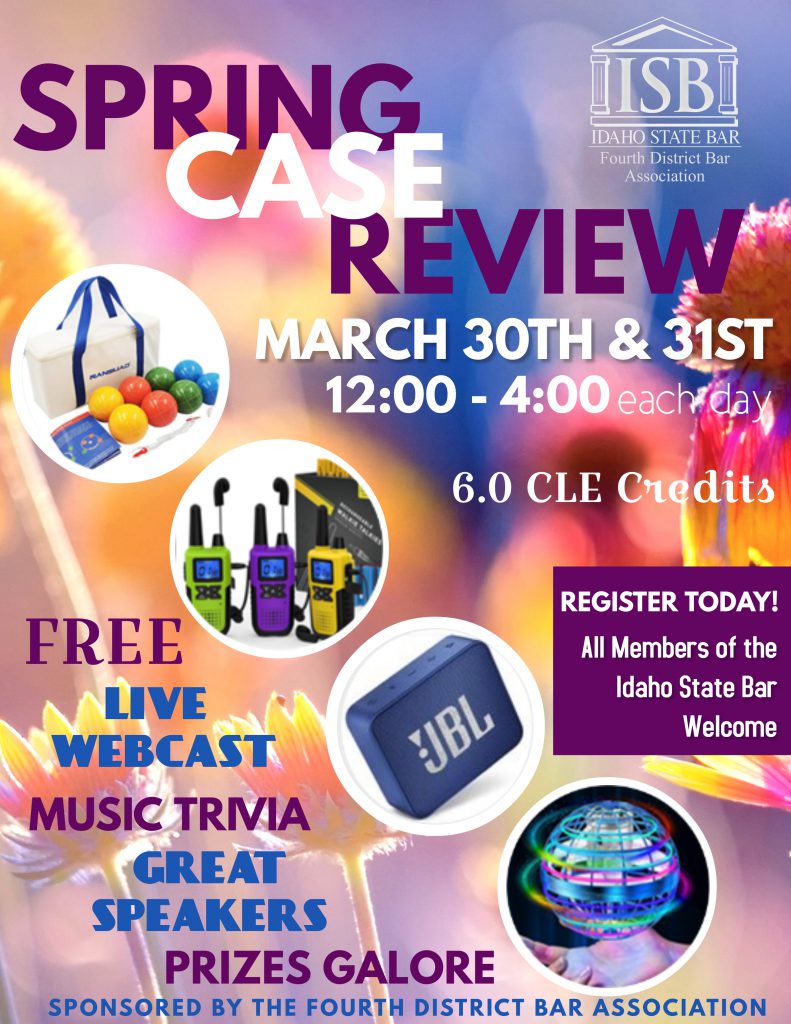 2022 Fourth District Bar Association Spring Case Review
Sponsored by the Fourth District Bar Association
March 30th and 31st, 2022
12:00 to 4:00 p.m. (MT) each day
Day 1 – 3.0 CLE Credits – NAC Approved (pending)
Day 2 – 3.0 CLE Credits including 1.0 Ethics and 2.5 – NAC Approved (pending)
Registration: FREE – Open to All Members of the Idaho State Bar
*Live Webcast Only
The Fourth District Bar Association invites all members of the Idaho State Bar to its Annual Spring Case Review.  The CLE will be held virtually over two days, Wednesday, March 30th and Thursday, March 31st from 12:00 p.m. to 4:00 p.m. each day.
The line-up of speakers includes a presenter in each practice area who will provide current case law updates.  During the short breaks in between speakers, members will have a chance to win fun prizes by playing a music trivia game!
The Fourth District Bar Association will also take a few minutes to hold its Annual Meeting where they will announce new officers for 2022-2023 and discuss the state of the district.
TOPICS
Wednesday, March 30th
Health Law in Employment – Sim Avila, St. Luke's Health System
Evidence – Jim Dickinson, Ada County Prosecutor's Office
Bankruptcy – J.B. Evans, Stoel Rives, LLP
Employment Law – Leslie Hayes, Office of the Attorney General
Criminal Law – Jenny Swinford, Idaho State Appellate Public Defender's Office
Business & Corporate Law – David Jensen, Parsons Behle & Latimer
Family Law – Katie Meier, Cosho Humphrey, LLP
Thursday, March 31st
Patent & Trademark – Elizabeth Schierman, TraskBritt, PC
Estate Planning – Sean Beck, C.K. Quade Law, PLLC
Torts – Kevin Griffiths, Scanlan Griffiths Aldridge & Nickels
Environment & Natural Resources – Talasi Brooks, Western Watersheds Project
Workers' Compensation – Taylor Mossman-Fletcher, Scanlan Griffiths Aldridge & Nickels
Ethics – Brad Andrews, Idaho State Bar
Spring Case Review Happy Hour
The Fourth District Bar is also hosting a happy hour after the Spring Case Review at Telaya Wine Company on the Greenbelt in Garden City from 5 to 7.  Please RSVP here for the Happy Hour to ensure there is adequate food and drinks.
Telaya Wine Co. is located at 240 E. 32nd Street – Garden City