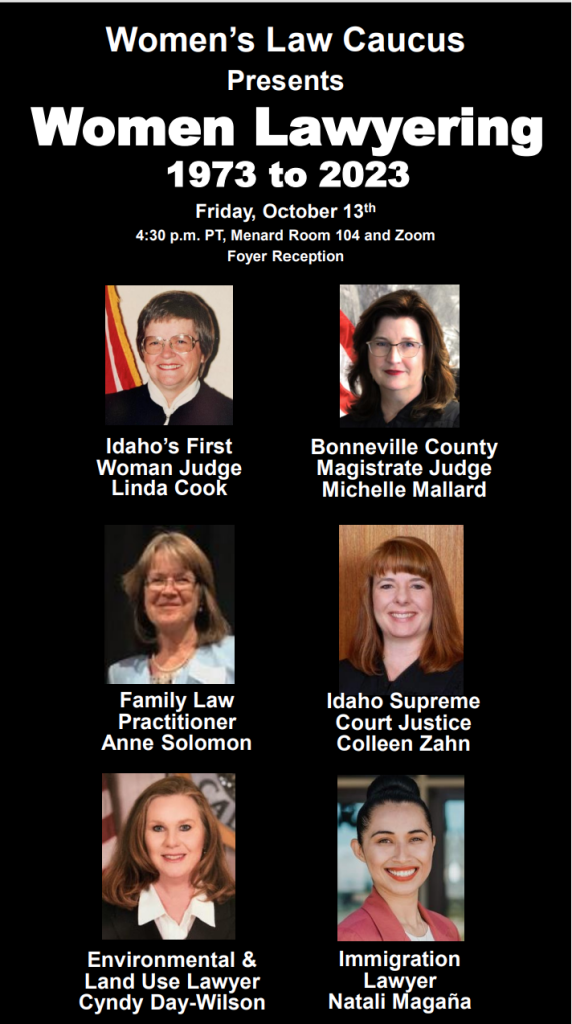 The Women's Law Caucus is excited to announce this fantastic event! The WLC is especially excited that all speakers are alums of the University of Idaho College of Law. All will be in person except Retired Magistrate Judge Linda Cook and Idaho Supreme Court Justice Colleen Zahn, who will appear via Zoom. University of Idaho College of Law Dean Johanna Kalb will be making introductory remarks.
Each speaker will address progress made in law school, the laws, and in practice from the decade when she joined the Idaho State Bar and what still needs to be improved:
Retired Magistrate Judge and first woman judge in Idaho Linda Cook and Family Law Attorney Anne Solomon: 1970s.
Environmental Lawyer Cyndy Day-Wilson: 1980s.
Magistrate Judge and former U.S. Attorney Michelle Mallard: 1990s.
Idaho Supreme Court Justice Colleen Zahn: 2000s.
Immigration Law Attorney Natali Magaña: 2010s.
There will be a reception after the panel for meeting the panelists and networking.
Note that this is homecoming weekend! The WLC hopes to see as many of you as possible in person and via Zoom. Thank you so much for sharing! Is there any way you could email your distribution with this information? That would be ideal. But any support for getting the word out would be amazing!
For in-person attendance, event begins at 4:30 p.m. PT in Menard, Room 104.
For Zoom attendance, please register ahead of time at https://uidaho.zoom.us/j/88506676463 (The meeting ID in the event you need it is 885 0667 6463.)