Published August 2022
Professionalism Awards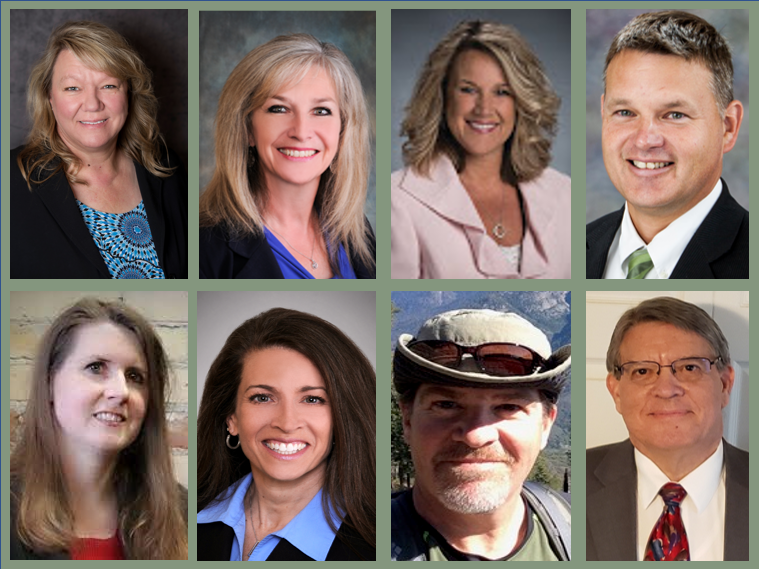 This year's Professionalism Award recipients have devoted their careers to the practice of law in a way that upholds the highest standards of civility and professionalism. Each of these individuals embodies a reputation of mutual respect and camaraderie with their colleagues. In addition to submitting biographical information, each recipient was asked to respond to the following questions:
First, what ideals or values do you let guide your professional life?
And, what advice would you give your younger self as you entered your law practice or began your career?
---
Fonda L. Jovick – First District, Priest River
Values: "Grace and patience must come before short-sided and short-tempered both in our personal interactions and in our written word. We all view the world through the lends of our own past experiences. Every person that we as legal professionals interact with is viewing us and their experience with us through their own lens and filter. When we learn to look through other people's filter and lens, we can see a whole new world."
Advice: "Relax! You are smart enough, you are wise enough, and you can work harder than anyone. So, take a breath and enjoy the privilege of doing this work. Be aware, this profession can be rewarding and aggravating all at the same time. But, the ability to spend each day helping others through scary and difficult life experiences is a meaningful way to spend your days."
Fonda Jovick graduated from Gonzaga School of Law in 2004. She became a member of the Idaho State Bar later that year and then the Washington State Bar in 2009. After working in the world of Family Law for a couple of years while she was an associate attorney, she felt ill equipped to deal with the vast array of personality issues, addiction, and parenting dynamics, so Fonda obtained a Master's Degree in Forensic Psychology in 2013 from the Chicago School of Professional Psychology. Fonda recalls it being a challenge to practice full time, be a mom, and work on nights and weekend to complete the program. But, she says, with the help of an amazing support system, she is thankful that she persevered. Fonda has practiced in many areas of the law over the years, often being kindly referred to as a "utility infielder." After almost 20 years in the legal industry, Fonda has narrowed her focus to Estate Planning, Probate and Trust work as well as representing municipalities and governmental entities in addition to maintaining a mediation practice. Fonda has only worked in two law firms since she began her career; Paine Hamblen, PLLP from May 2003 to December 2014 and Lake City Law since January 2015, where she was a founding member and partner.
---
Joseph A. Wright – Second District, Grangeville
Values: "We have an outstanding group of attorneys, judges, and court staff in the Idaho Second Judicial District which makes it easy to keep things courteous and professional. On the rare occasion that I do have to deal with a 'difficult' opposing counsel, I stay focused on their message and don't get too concerned about the manner of its delivery. I always carefully listen to and consider the viewpoints of the opposition – even if I think they are wrong, a judge may think they are right about some things."
Advice: "It took me awhile to figure out that the best solution to a legal problem isn't always found in law books. Understanding the human factors involved is often more important to resolving a legal dispute than anything."
Joseph Wright and his wife, Leslie, currently live in Grangeville. They have three adult children, Halley, Brennan, and Cooper, and two amazing young grandsons, Oliver and Cameron. Brennan and Cooper are both also attorneys and work with Joseph has his associates at Wright Law Group in Grangeville. Their daughter, Halley, lives and works in Long Beach, California. Joseph received his undergraduate degree in chemical engineering from the University of Idaho in 1984. He worked as a process engineer for a silicon wafer manufacturer in Vancouver, Washington for a few years before returning to Idaho to attend law school in 1988. Joseph attended law school at the University of Idaho College of Law in Moscow and graduated magna cum laude in 1991. After graduation, Joseph started working as an associate with Randall, Blake & Cox in Lewiston in 1991. He and Leslie moved to Grangeville in 1997 when he took a job as deputy prosecutor for Idaho County. Joseph also established his local private practice in Grangeville at that time. Around 2005, he started working as an associate for Olds & Associates handling product liability defense cases in the U.S. and Canda for a major ATV/snowmobile manufacturer while also continuing his local law practice part-time. He went to full time local law practice around 2012. Brennan and Cooper both joined the firm as associates upon their graduation from law school.
---
Robert P. Tilley – Third District, Nampa
Values: "It seems trite to claim that the golden rule is the value that guides your life. But I can't think of a more important idea than to treat everyone with dignity and respect."
Advice: "As a lawyer, especially in the areas you will practice, you will represent people experiencing some of the worst moments of their lives. Many at the end of their rope. Always keep that in mind when you work with them. Keep your eyes open and be wise, but also, always, be empathetic."
Robert Tilley has lived in nearly every corner of this great State – Harrison in the North, Henry's Lake in the East, Wendell, Hazelton, and Twin Falls in The South, and finally Boise with his office in Nampa. After receiving his B.A. and M.A at Boise State University, Robert was an Upward Bound teacher at both Nampa and Skyview High Schools. He then went on to the University of New Mexico School of Law for his J.D. There, he was Managing Editor of the U.S.-Mexico Law Journal. Returning to Boise after law school, Robert was admitted to the Idaho State Bar in 2002. He then briefly worked at Charlie Herrington's immigration firm before becoming an Associate at Wiebe & Fouser in Caldwell, where he learned to be a true advocate for his clients. In 2006 he began his criminal defense and family law practice in Nampa. Along with him on this ride is his wonderful wife and son and daughter, now in college.
---
Sandra L. Clapp – Fourth District, Boise
Values: "Strongly advocate and protect the position and interests of the client while being respectful to everyone involved. Write all words as if the letter or message will be on public display. Be a mentor to other attorneys or support staff because the goal is to provide the best legal services and better the legal environment as a whole. The practice of law is difficult, but cooperating with other counsel will more likely achieve the best for all involved. Surround yourself by people who have strong integrity and values and model your decisions through the example of those you admire."
Advice: "Work hard but leave work at the office (something I still struggle with). It is easy to take a client's legal problems personally, but it is emotionally difficult if a line is not drawn between professional services and the problems of the individual client. Sometimes you have to remember you can't fix all problems and outcomes of a case can be outside of your control. Protect your reputation with ethical decisions because your good reputation is the best asset you have. Find a strong mentor (even if outside of your practice area) to watch and learn from. It's okay to ask for help."
Sandra Clapp attended the University of Idaho, receiving her bachelor's degree in history with a minor in political science in 1988. She went on to the College of Law, graduating in 1991 and gaining admission to the Idaho State Bar later that same year. She has served as Chair of the Idaho State Bar's Taxation, Probate & Trust Law Section, Chair of the Idaho Law Foundation's CLE Committee, and Chair of the Boise Estate Planning Council. Sandra clerked for the Honorable Stephen Trott on the U.S. Ninth Circuit Court of Appeals and has been in private practice since 1992. She established Sandra L. Clapp & Associates, P.A. in 2004 based in Eagle, Idaho and has been there ever since. Sandra practices in trusts, estates, probate, guardianship, conservatorship, and general business matters. She is a previous recipient of the Idaho State Bar's Service Award.
---
Melanie G. Rubocki – Fourth District, Boise
Note: Melanie was traveling at the time of publication and was unable to provide answers to these questions.
Melanie Rubocki is Perkins Coie's Boise office managing partner and heads the firm's Corporate practice for the Boise office. With a foundation in finance and entrepreneurial studies from the Wharton School of the University of Pennsylvania, Melanie brings a business sensibility and reasonableness to her client relations and any negotiated transactions. She represents business clients through their entire life cycle, from startup formation to exit. Melanie graduated from Notre Dame Law School with her J.D. in 1997, where she was the executive editor of the Journal of College and University Law Review. She moved to Boise in 2009 and started her career in Boise as an associate at Holland & Hart before joining Perkins Coie. Melanie is also active in her community and serves on several nonprofit boards.
---
Brian P. Kane – Fourth District, Boise
Values: "A sense of service guides everything that I do. I also think that honesty and kindness are polestars of how I try to live and practice. I'm not perfect by any means, but I think these are reliable values to continue to work toward."
Advice: "Be patient, establish your credibility, and invest in your personal and professional relationships. A legal career is a marathon and not a sprint, it's easy to lose sight of that. Today's adversary may be tomorrow's ally."
Brian Kane received his Bachelor of Arts degree in history and political science from the University of Idaho. He earned his law degree from the Northwestern School of Law at Lewis and Clark College in Portland, Oregon. Brian began his career with the Idaho Attorney General's office in 2001. In 2005, Brian was promoted to Assistant Chief Deputy Attorney General and in 2021, he was promoted to Chief Deputy. Brian serves as Chief Legal Counsel for the Idaho Legislature as well as legal counsel to the Secretary of State, and other statewide elected officials. He acts as a liaison between the Attorney General and local, state, and federal governments. Brian is a member of the state's IDEAL 529 Plan Board and 457 Deferred Compensation Board. Brian has authored legislation, constitutional amendments, and numerous legal articles. He serves as a faculty member for the National Attorneys General Training and Research Institute (NAGTRI). He also serves as Adjunct Faculty for the University of Idaho College of Law, teaching Administrative Law, and the Idaho Legislative Process. In 2012, Brian was recognized by the Idaho State Bar with an Outstanding Service Award, and by NAAG through his selection as an International Fellow. In 2013, Brian received the NAAG NAGTRI Faculty of the Year award and the Nelson Kempsky Award for Management and Leadership from the Conference of Western Attorneys General (CWAG). In 2017, Brian received the NAAG Attorney General Senior Staff of the Year Award. Brian served 4 years in the 1st Calvary Division of the U.S. Army. Most recently Brian co-created "Counsel for the State," a podcast about the Idaho Attorney General's Office.
---
Lisa B. Rodriguez – Fifth District, Twin Falls
Values: "I believe in having respect for others which includes not only clients, but opposing counsel and clients and the court. This includes being honest and forthright (even when it's not what the client wants to hear). I also think that you need to have a healthy sense of humor and perspective in dealing with difficult situations."
Advice: "It's important to have a healthy work/life balance and know your own value. You want to work hard but work smart so that you can also enjoy your family and life. Also, don't be afraid to ask more experienced practitioners for advice as most are willing to share their knowledge and experience."
Lisa Rodriguez attended the University of Idaho College of Law and graduated in 2004. She was admitted to the Idaho State Bar in September of 2004. She clerked for District Judge G. Richard Bevan in Twin Falls County which brought her to Twin Falls. After her clerkship, she went into private practice and has done primarily family law and civil cases and in more recent years has added criminal defense. Lisa is currently a partner in Migliuri & Rodriguez, PLLC in Twin Falls, Idaho. She enjoys helping clients navigate the legal system and getting them through difficult life situations.
---
Frederick G. Zundel – Sixth District, Pocatello
Values: "There have been three great influences in my life. The first were my parents. My dad was a family physician and my mom was a nurse who worked with my dad. A significant part of my dad's practice was providing care for those with limited ability to pay for that care. According to my mom, he never turned anyone away who was in need. My dad's defining qualities were hard work, honesty, and compassion for the less fortunate, along with a weakness for lame jokes, to which I am sometimes prone. The second influence is Jesus of Nazareth, whom I take seriously as God's son and promised messiah, and both of whom I worship and try to follow as a member of the LDS Church. Their teachings have deeply influenced me and given my life a richer meaning than I believe I would otherwise have had. And the third is my wife, Lorna, who shares and has supported my desire to work in a legal aid setting. She has inspired me from the moment I first met her to be a better person and has been a wonderful mom for our six children."
Advice: "To a young attorney I would start with Michelangelo's statement that trifles make perfection, and perfection is no trifle. Never stop trying to master your craft in your knowledge of the law and improving your skills in advocating for your client. Be humble and invite criticism from others with more experience. Be scrupulously honest. Be kind to all you meet and care about others, and especially your client. Be respectful to opposing counsel and their clients. If you have a partner in life and children, take regular time to nourish your relationship with them while wading through the demands of a law practice. If your practice is starting to undermine these relationships, consider finding another job. They are more important."
Fred Zundel received his undergraduate degree at the University of California at Davis in philosophy and Greek, and his masters degree at the University of Arizona in legal philosophy. In 1983, he graduated from the J. Reuben Clark Law School at Brigham Young University and then spent two years as an associate in the Idaho Falls law firm of Hopkins Roden Crockett Hansen and Hoopes. Fred mentions he will always be grateful to Skip French and Tim Hopkins for hiring him and letting him see first class lawyering up close. In 1985, he joined Idaho Legal Aid Services in their Idaho Falls office and transferred to their Pocatello office in 1988. As a legal aid attorney, Fred has practiced primarily in representing survivors of domestic violence and over the past 15 years in drafting Indian wills for members of the Shoshone-Bannock Tribes and serving as a GAL in high conflict custody cases in Tribal Court. Fred notes that he has been blessed to have been able to have a genuinely meaningful and rewarding life as an attorney.
---
DeAnn Casperson – Seventh District, Idaho Falls
Values: "Although it sounds simplistic, I've found that following the golden rule, to treat others with the same professional courtesy as one would like to be treated, solves many problems. Litigation is difficult. It can bring out the best in us, and the worst in us. I've always tried to recognize in the heat of the battle that other lawyers are just doing their jobs – zealously advocating for their client. I've certainly had moments that required an apology afterwards and accepted similar apologies from others. In spite of the adversarial nature of our profession, I strive to not sink into a tit-for-tat relationship, i.e. if you won't give me an extension, I won't give you one either. Even when I'm convinced that another attorney does not deserve the courtesy, I try and give it and remember the golden rule reflects the type of attorney I strive to be."
Advice: "If I could speak to my younger self, I would tell myself to embrace every time I felt that I had been thrown in the deep end of the pool. In hindsight, I realize how lucky I was to be getting real litigation opportunities early in my career. At the time, I felt I wasn't ready, that I needed more experience, and it was wrong to assign this task to me. I would tell myself to set aside the fear of failure and not knowing what to do, and just get to work and figure it out. Actually performing litigation tasks is the only way to learn. Along with that advice, I would tell myself that there are resources all around you – attorneys who are willing to give you advice. Most attorneys, no matter how seemingly busy and important, will help. Ask for their advice by telling them the issue and what you think is the best way to address it and why. They will give you valuable input. Finally, I would tell myself it gets easier, and my choice to become a lawyer was a good one."
DeAnne Casperson attended law school at the University of Missouri-Kansas City. She graduated in 1999 with honors and began a federal court clerkship with the Honorable Dean Whipple of the United States District Court for the Western District of Missouri. After her clerkship she worked for Shook, Hardy & Bacon in Kansas City before returning to her native state of Idaho. Ms. Casperson became a member of the Idaho State Bar in 2003. She practiced at Holden, Hahn & Crapo for several years. In 2018, Ms. Casperson and two of her partners started their own firm, Casperson Ulrich Dustin, where she practices employment law on behalf of employees and employers. Ms. Casperson has tried numerous cases in federal and state court. She has arbitrated many cases on behalf of unions, as well. She is currently serving as an emeritus Lawyer Representative for the federal court.
---