By R. Jonathan Shirts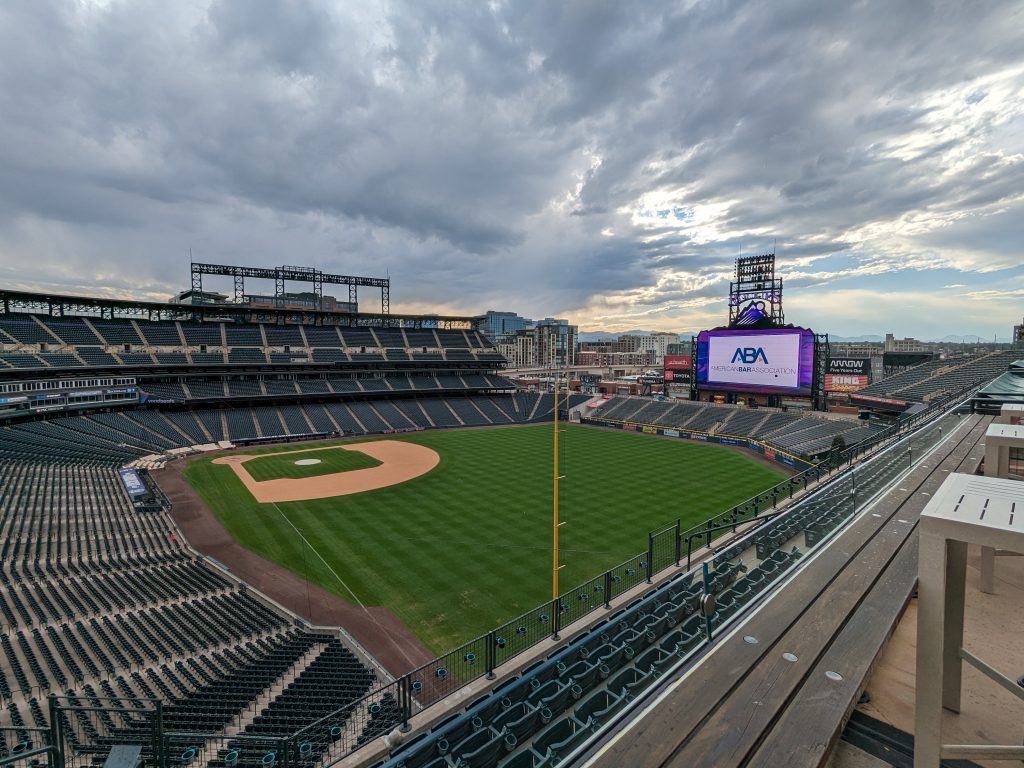 Author's Note: This article is going to be a little different from the usual ABA Meeting Report you have seen in the past. For a full breakdown of what the ABA House of Delegates considered at this year's Annual Meeting, please visit https://www.americanbar.org/news/reporter_resources/annual-meeting-2023/house-of-delegates-resolutions/. Instead, I want to focus on one particular Resolution unanimously passed by the House of Delegates in August – Resolution 200.[i]
A year ago, at the close of the 2022 American Bar Association ("ABA") Annual Meeting in Chicago, I was discussing the impact of trauma on the judiciary with a good friend of mine who is now an Associate Justice on the High Court of the Republic of the Marshall Islands. She thought a Resolution on this was "worth the doing," and introduced me to the Chair of the ABA Judicial Division's Judicial Security Committee.[ii] I presented them with the idea for a Resolution which would ask for consideration of the impacts of secondary or vicarious trauma on staff in the judiciary, and how that trauma impacts the security of courtrooms. They jumped on board immediately. Over the next nine months, I worked with a number of judges on the Committee from Utah, Pennsylvania, Illinois, and elsewhere, trying to find research or studies that addressed this issue, even tangentially.
We didn't find much.
As we researched, we came to the conclusion that judicial security is definitely impacted by the mental health and wellness of the staff. In general, society has begun to recognize the impact of trauma, along with being willing to openly discuss mental health and wellness. There are plenty of studies on the impact of trauma on students[iii] or the workplace.[iv] At all levels of the judiciary across the country, it has long been understood and accepted that, due to the nature of their positions, judges must handle a great deal of trauma.[v]
Judges generally don't deal with the direct trauma from sexual assault, drug abuse, or other criminal actions they are frequently asked to preside over, but, unfortunately, there are some judges who do have to cope with stalking, direct threats, or even murder. It was national news last year when an individual flew across the country with the express intent of ending United State Supreme Court Justice Brett Kavanaugh's life.[vi] Another recent event that received national attention involved an attack on a federal judge, Judge Esther Salas of the District of New Jersey, whose husband was shot three times and her son killed after a disgruntled attorney who had only appeared once before her, found her personal address online and showed up at her home.[vii] When the attacker was arrested, police found he also had the personal information for three other federal judges on him and that he intended to do harm to each of them, as well.[viii]
These problems are not exclusively for federal judges either; Idaho has seen direct threats against judges, threats which have sometimes been indirectly perpetuated by law enforcement or legislators.[ix] Threats and assaults on judges or their families at all levels have led to an increase in legislation around the country aimed at protecting them.[x] But the majority of the legislation and provided resources, both at the State and Federal levels, has focused on protecting the judges and their families from these direct types of harm.[xi] However, much of the trauma experienced by judges is not from those types of direct traumatic experiences, the majority comes from what is termed either secondary trauma or vicarious trauma.[xii]
Even with all of that legislation and discussion, there is a still a group that seems to have been forgotten: judicial staff – clerks, court reporters, bailiffs, and everyone else in the courthouse who helps move the work of the judiciary forward. Yes, there are correlations that can be made between workplace trauma, or the trauma experienced by correctional officers[xiii] and the impact of trauma on judicial staff, but there are stark differences between the types of trauma experienced by judicial staff when compared to those other groups. Judicial staff all experience similar secondary or vicarious trauma as the judge – court reporters listen to the same trials and sentencings, sometimes more than once; court clerks handle the same sometimes gruesome evidence; law clerks or staff attorneys read much of the same disturbing material. But those experiences don't seem to be recognized, much less addressed.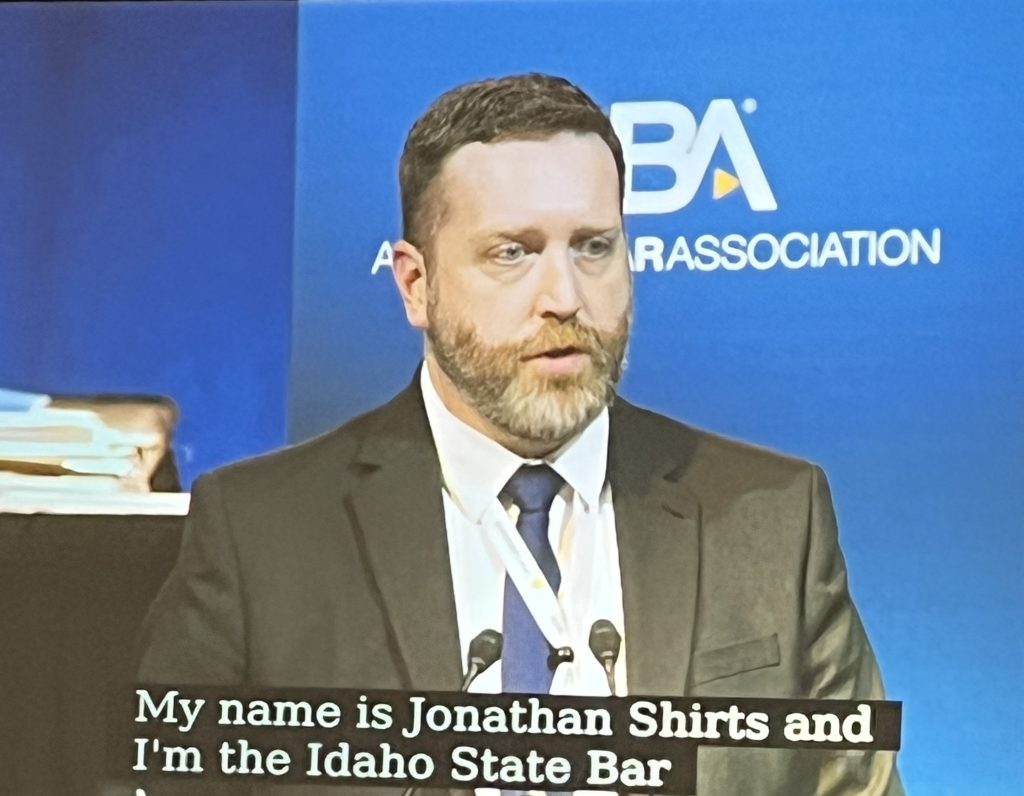 The most impactful statement I heard on this issue was from a Maryland Judge and outgoing member of the ABA Board of Governors, Hon. Pamila Brown, who spoke in support of Resolution 200. When discussing a shooting that took place in a courthouse near her, she said:
"I had my staff, I had my bailiffs, I had my judges who were so traumatized that they did not want to appear in court. That courthouse still opened the following day, boarded up with boards, but there was no availability for people to talk about what had happened, and their safety and security […]. If there's a school shooting or traumatic event in many places in our country, there's a team of individuals that go in and speak to, typically it would be students, but we don't have that available to court staff."[xiv]
As a fellow Delegate from another state put it to me after Resolution 200 passed, "We'll do whatever it takes to help students or workers after a traumatic incident, but when something traumatic happens in a courthouse? All we're told is, 'Be back to work at 8:00 AM tomorrow.' And that's not right."
No, it's not right. No one who works in the judiciary – judges and staff alike – should feel like they have to just "push it aside" or "leave work at work." Just because someone happens to work for the courts, does that mean they are expected to pull themselves up by their bootstraps and move on because the problem will "surely go away if those victims would just square their shoulders and think more positively – though I am a vigorous advocate of square shoulders and positive thinking?"[xv] Educational leaders have realized how vital it is for children afflicted with traumatic experiences to be given all of the help and support possible, as soon as possible; religious leaders recognize that prayer alone can't erase the impact of trauma; but the courts have yet to do more than nod their heads and say what a tragedy it is before moving on to the next case. How many talented employees have courts lost because the employee felt "overwhelmed" by their job without recognizing that feeling was just a mask for the daily trauma they had experienced? How many complain that the pay isn't enough so they move on, when the pay may have been enough and all they needed was a little extra support?
Every time an attorney walks into a courtroom with a client, they should not have to worry whether the bailiff is going to be 100% focused on protecting everyone in that courtroom and not dwelling on the troubling testimony they heard the previous week from a seven-year-old victim in a lewd and lascivious conduct trial. Someone seeking a protective order from an abusive partner should not have to agonize about whether it has been misplaced because the clerk responsible for it had a breakdown after an angry litigant threatened them and their family. Judges, their staff, and their families should not have to fear being harmed by a deranged individual from their neighborhood who saw a social media post from a law enforcement officer or legislator that personally attacked the judge.
In 2005, the ABA passed a Resolution on judicial security that stated in part, "That the ABA urges the Congress and the Department of Justice to consider whether existing Federal laws are adequate to protect the safety of all persons involved in the Federal judicial process."[xvi] However, in the last 17 years since that Resolution was passed, not much has been done with the "all persons" piece, especially at the state level. As a judge put it in discussion when we were asking for sponsors of the Resolution, "This seems like common sense. Why haven't we been looking at this for the last 20 years?" That is the question I started working from as the principal drafter of what became Resolution 200. After the Resolution was accepted for the House of Delegates' August calendar, I had court personnel from across the country, judges and staff alike, come up and thank me for bringing up this topic because they weren't sure how to bring up or address it themselves. I heard from many who felt discouraged because it seemed that no one recognized that they were struggling, too.
Now that the Resolution has passed, the hard work really begins. We can't just stand on the proverbial hill and expect "roast duck to fly in."[xvii] We must ask ourselves, "What can be done right now for all judicial staff, not just the judges? How can we make things better for the future?" As attorneys and judges, we have a responsibility to advocate for needed change. Encourage those who work in the court system to accept help when they're feeling overwhelmed. Make therapy and counseling a subject that isn't taboo by openly promoting your firm's Employee Assistance Programs or the Lawyer Assistance Program.[xviii] Charles Hamilton Houston, an amazing civil rights lawyer who helped mentor Justice Thurgood Marshall, once stated, "[A] lawyer is either a social engineer or a parasite on society."[xix] Please, join me in engineering change for everyone in the judiciary. Contact a legislator and encourage them to support an independent and mentally healthy judiciary. Discuss with your County Commissioners how they can support the county employees that work in the courts. Do something, anything. Your own safety may depend on it someday.
---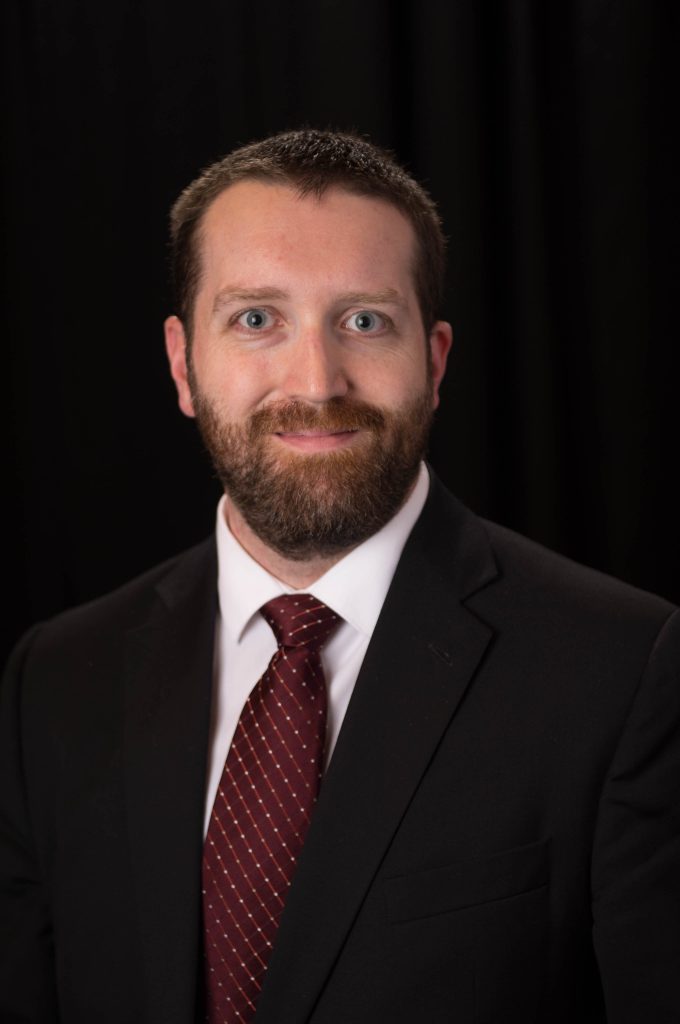 R. Jonathan Shirts graduated from the University of Idaho College of Law in 2018 and is currently the Staff Attorney for the Hon. Randy Grove of the Third District. He has also worked as the Staff Attorney for the Hon. Nancy Baskin and Hon. George Southworth. He enjoys good books and spending time in the outdoors with his wife, daughter, and two sons.
---
[i] https://www.americanbar.org/news/reporter_resources/annual-meeting-2023/house-of-delegates-resolutions/200/. This is a bit of shameless self-promotion as I was the principle drafter of this Resolution. It was sponsored by the National Conference of State Trial Judges who immediately stepped up to the plate when asked. It also received additional support and backing from many other ABA entities including the Judicial Division, the Standing Committee on Ethics and Professional Responsibility, and the Commission on Lawyer Assistance Programs, and a number of State and regional Delegations. To those groups and everyone else who supported this Resolution, Judge Toni Clarke, Judge Pamila Brown, and Tori Jo Wible in particular, I want to personally say, "Thank you."
[ii] To the members of the Judicial Security Committee, especially Judge John Allen, Judge Stephanie Domitrovich, and Judge John Connor, thank you for your time, enthusiasm, and encouragement.
[iii] A search on Google Scholar for "impact of trauma on students" returns over three million results. See https://scholar.google.com/scholar?hl=en&as_sdt=0%2C13&q=impact+of+trauma+on+students&btnG= .
[iv] A similar Google Scholar search for "impact of trauma on workplace" returns about 560,000 results. See https://scholar.google.com/scholar?hl=en&as_sdt=0%2C13&q=impact+of+trauma+on+workplace&btnG=.
[v] A Google Scholar search for "impact of trauma on judiciary." shows only 98,800 results. See https://scholar.google.com/scholar?hl=en&as_sdt=0%2C13&q=impact+of+trauma+on+judiciary&btnG=.
[vi] https://www.reuters.com/world/us/armed-man-arrested-near-home-us-supreme-court-justice-kavanaugh-2022-06-08/.
[vii] https://www.npr.org/2020/11/20/936717194/a-judge-watched-her-son-die-now-she-wants-to-protect-other-judicial-families.
[viii] This was not the first time a federal judge's family has been attacked and killed. A similar attack happened in 2005 when an angry litigant killed the mother and husband of a federal judge. See https://www.splcenter.org/news/2005/03/01/family-judge-targeted-hate-group-murdered.
[ix] In addition to other articles in this issue which detail some of the problems currently facing the Idaho judiciary, the Report included with Resolution 200 discusses one recent event involving threats against an Idaho judge after law enforcement officials posted their disagreement with a sentencing decision on social media. See https://www.americanbar.org/content/dam/aba/directories/policy/annual-2023/200-annual-2023.pdf, pp.1-2.
[x] For example: Idaho (https://legislature.idaho.gov/wp-content/uploads/sessioninfo/2023/legislation/S1059.pdf); Maryland (https://mgaleg.maryland.gov/mgawebsite/Legislation/Details/sb0221); Texas ("Judge Julie Kocurek Judicial and Courthouse Security Act of 2017," codified in Tex. Gov't Code Ann. § 552.117). Similar legislation exists or is being considered in many other states. See National Center for State Courts, https://www.ncsctableauserver.org/t/Communications/views/GaveltoGavelDashboard-2023/GaveltoGavel (Select "Security").
[xi] For example, earlier this year, Congress passed legislation specifically designed to restrict the availability of judge's personal information. See https://www.uscourts.gov/news/2022/12/16/congress-passes-daniel-anderl-judicial-security-and-privacy-act.
[xii] See, e.g., David Swenson, Ph.D. L.P., Joan Bibelhausen, J.D., Bree Buchanan, M.S.F, J.D., & Hon. David Shaheed & Katheryn Yetter, J.D., Stress and Resiliency in the U.S. Judiciary, Prof. Law., 2020, at 1, 4; https://www.ncsc.org/__data/assets/pdf_file/0033/77676/Secondary-Trauma-and-the-Courts.pdf (discussing studies related to trauma in courts); https://academic.oup.com/book/29490/chapter-abstract/265421842?redirectedFrom=fulltext&login=false (exploring the impact of trauma and stress on the workplace); and https://www.aha.org/fact-sheets/2022-06-07-fact-sheet-workplace-violence-and-intimidation-and-need-federal-legislative (discussing the need for legislative response to violence in the healthcare field).
[xiii] A Google Scholar search for "impact of trauma on correctional officers" showing 48,700 results. See https://scholar.google.com/scholar?hl=en&as_sdt=0%2C13&q=impact+of+trauma+on+correctional+officers&btnG=.
[xiv] See Note i, supra (video on web page, starting at 6:40).
[xv] Jeffrey R. Holland, Like a Broken Vessel, https://www.churchofjesuschrist.org/study/general-conference/2013/10/like-a-broken-vessel?lang=eng.
[xvi] https://www.americanbar.org/content/dam/aba/directories/policy/annual-2005/2005-am-106d.pdf (emphasis added).
[xvii] "Man who stand on hill with mouth open will wait long time for roast duck to drop in." ― Confucius
[xviii] "The mission of the Idaho Lawyers Assistance Program (LAP) is to provide support for lawyers who are experiencing problems associated with substance abuse and/or mental health issues in a safe manner, preserving the reputation and trust of the attorney." https://isb.idaho.gov/member-services/programs-resources/lap/.
[xix] https://www.americanbar.org/groups/crsj/publications/human_rights_magazine_home/black-to-the-future-part-ii/human-rights-hero–the-african-american-social-engineer/