By Kylie Hicks and Tanner J. Bean
There are two places to resolve competing civil rights: the courts and the legislature. In the courts, rights are pitted against another, locking parties in an expensive, intractable battle that imperils the human dignity of communities as media outlets paint the communities as "enemy" and "other." In the legislature, the resolution of these rights hinges upon finding common ground between communities with unfamiliar ideas and modes of life.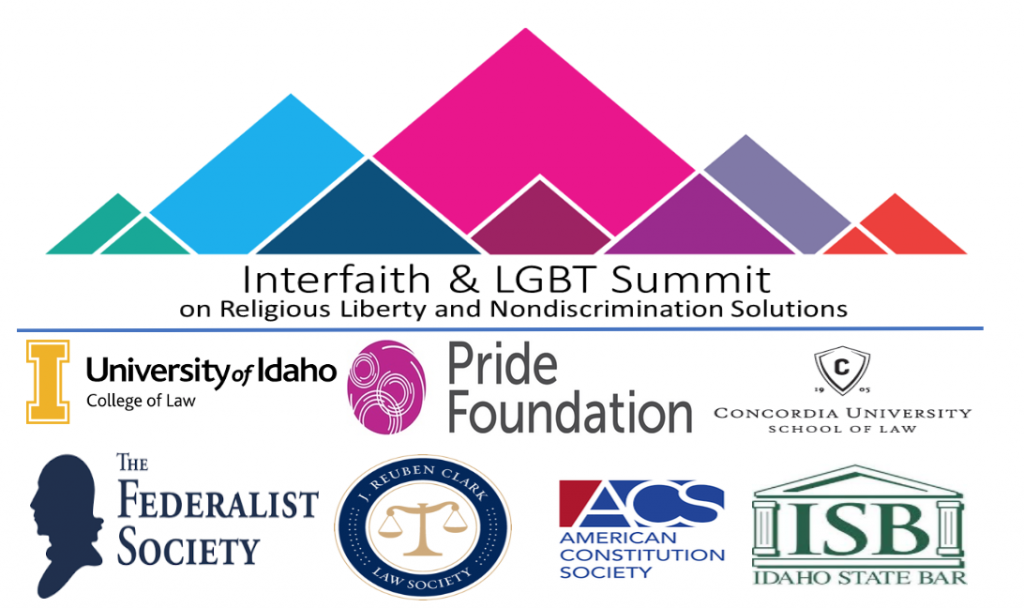 Idaho has yet to make up its mind about which approach is more attractive, at least when it comes to LGBT rights and religious liberty. So we convened the Interfaith & LGBT Summit on Religious Liberty and Nondiscrimination Solutions[i] to help Idaho along. The Summit gathered 20 speakers and 150+ audience members from the faith and LGBT communities across Idaho to sit down and talk about the rights each community seeks. It was an unprecedented gathering in our state.
For compromise
The Summit featured four, panel discussions and spanned two days at Boise's two law schools, where speakers voiced their opinions on the best way to resolve the competing rights of LGBT nondiscrimination and religious liberty. President Pro Tempore Brent Hill, who appears to lead the Idaho Legislature in dialogue[ii] on these issues, anchored one group of speakers. This group held fast to the concept that building common ground between the communities was essential to lawmaking because the best (and perhaps the only politically possible) type of legislation will include protections for the LGBT community and the faith community. This concept is often referred to as a "compromise," a "balanced" approach, or "Fairness for All."
Speakers like Eric Baxter, Senior Counsel for the Becket Fund for Religious Liberty, emphasized that such legislation "should make room for people to live, on both sides, their lives in the fullest." Recognizing that the freedom of one community need not be deprived in order to protect the other, Howard Belodoff, Associate Director of Idaho Legal Aid Services, noted, "you don't protect or preserve the freedom of one group by depriving others of their freedom." Representative John McCrostie, the only openly gay legislator currently serving in the Idaho Legislature, seemed to agree. Acknowledging the influence of both faith and sexuality play in his life, he asserted that "[c]ompromise does not require an abandonment of your beliefs. Both the LGBT community and the religious community can hold on to the things that we treasure dearly. These are values that make us who we are, and we don't have to give that up through compromise."
Fears about the ability to live authentically in private and in public motivated much of this discussion about compromise. Doug Werth, Lead Deputy Attorney General at the Idaho Human Rights Commission, cataloged the progress of civil rights and the rate of discrimination claims filed in Idaho. Boise Mayor David Bieter explained the motivation behind Boise's municipal LGBT nondiscrimination ordinance:[iii] LGBT people were afraid to make complaints to the police department for crimes committed against them, fearing collateral consequences if an investigation outed them. University of Idaho College of Law Professor Katherine Macfarlane drew an analogy to disability discrimination, noting that discrimination pervades society and injures individuals going about their daily lives. Perhaps most succinctly, Kathy Griesmyer, Policy Director and Chief Lobbyist at the ACLU Idaho, concluded LGBT discrimination is "not a feeling, it's a reality."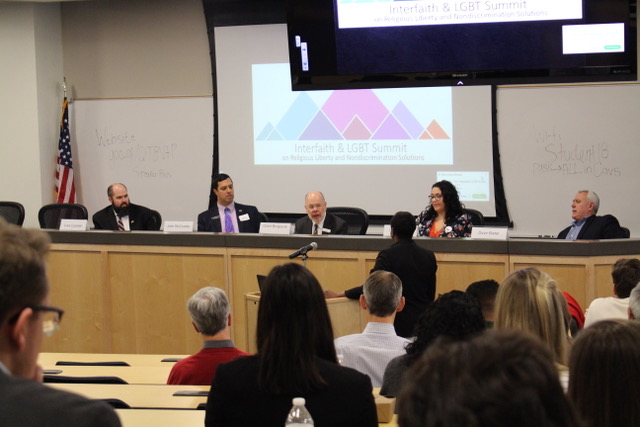 Against compromise
Griesmyer joined other speakers at the Summit who rejected the notion of legislative compromise. She argued that the LGBT community should hold out and seek protection from the courts until the Idaho Legislature is willing to pass an LGBT nondiscrimination law without any religious liberty protections. This model follows the "Add the Words" proposal,[iv] which would add gender identity and sexual orientation as protected categories to the Idaho Human Rights Act (IHRA), as Chelsea Gaona-Lincoln, Chair of Add the Words Idaho, explained to Summit attendees.
Senator Grant Burgoyne shared that from his interactions with LGBT advocates, he has no sense that they are willing to compromise. To Senator Burgoyne, it appears the LGBT community has weighed the risk of (1) receiving some protections now from the Idaho Legislature in a compromise bill against the possibility of (2) receiving all desired protections in the future from the courts or a more sympathetic Legislature. Although former Idaho State Representative Nicole LeFavour expressed that "the cost of doing nothing in our state" can be as drastic as murderous hate crimes and violence against the LGBT community, Senator Burgoyne's estimation is the LGBT community is "willing to wait. They're willing to fight."
Proposed and existing religious exemptions
The disparity in opinion of those amenable and opposed to compromise can largely be attributed to the inclusion of religious exemptions in a compromise bill. LeFavour questioned, "What about including [LGBT people] in the law suddenly requires a religious exemption?" For LeFavour, any religious exemption would signal that LGBT people "are less than human." President Pro Tempore Hill's "Concepts for Discussion,"[v] which outlines future legislative dialogue, seeks protections for religious organizations and small businesses in the contexts of employment, housing, and public accommodations. These protections would allow employees to "express their religious or moral beliefs without retaliation"; permit business owners to "abstain from celebrating 'expressive activities,' such as demonstrations, weddings, and religious events"; allow "faith-based adoption agencies to avoid services that violate their religious policies"; and ensure "business owners will not have their licenses revoked because of their beliefs."
Currently, the IHRA,[vi] much like its federal nondiscrimination cousins,[vii] contains religious exemptions from the nondiscrimination duties it imposes along the lines of race, color, religion, sex, national origin, and disability. For example, IHRA allows religious corporations, associations, and societies to make employment decisions based on religion; permits religious schools to choose students based on religion; exempts religious organizations and places of worship from the definition of a place of public accommodation; releases small landlords, who may be religious, from non-discrimination obligations; and allows religious charities to give preference to members of the same religion in real property transactions.[viii]
Theoretically, religious exemptions may also be obtained in court under Idaho's Free Exercise of Religion Protected Act (FERPA),[ix] the state-level cousin to the federal Religious Freedom Restoration Act (RFRA), which codifies a multifactorial balancing test between religious free exercise and the government's interest in applying otherwise beneficial legislation. However, since FERPA's enactment in 2000, no appellate court in Idaho has granted a religious exemption—the Idaho Supreme Court has never even addressed the statute.[x] Moreover, no court in the country has ever granted a religious exemption through an RFRA-type law from an LGBT nondiscrimination law.[xi] Yet, at the Summit, Griesmyer, and Gaona-Lincoln expressed that FERPA and the religious exemptions already found in the IHRA will sufficiently protect the free exercise of religion when sexual orientation and gender identity are added as protected classes.
A religious exemption in the public accommodations context may be the sticking point that has prevented a compromise bill to date. Representative McCrostie recounted that in the hearings on a previous Add the Words bill, public comment from the faith community did not demonstrate strong objection to LGBT nondiscrimination protections in employment, housing, or education, but the issue of public accommodations invoked concerns similar to those behind Masterpiece Cakeshop,[xii] where the Colorado Civil Rights Commission sanctioned a Christian baker for declining to bake a wedding cake for a same-sex wedding celebration.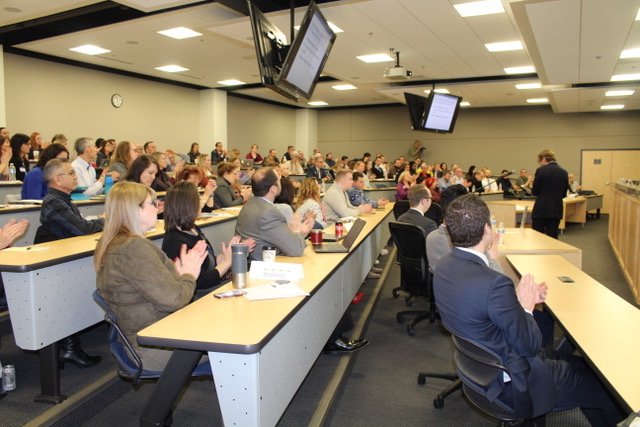 Municipal inconsistency
Although the Summit speakers took different views on the matter of compromise, all saw the need for a state-wide measure to be passed in the Legislature. University of Illinois College of Law Professor Robin Fretwell Wilson brought to light that Idaho currently has only patchwork protection for LGBT and faith communities, spread across 13 municipalities that ban LGBT discrimination and the numerous municipalities that do not.[xiii] Griesmeyer expressed how patchwork protections make life unpredictable: one may be protected from discrimination while at work in Meridian,[xiv] but lose protections after traveling home to Nampa. While waiting on a state-wide measure, Luke Caverner, Vice President of the Meridian City Council, encouraged attendees to "take the bull by its horns and go work at the local level."
Community voices
Several speakers at the Summit spoke less of law and politics and more of compassion. Reverend Sara LaWall, of the Boise Unitarian Universalist Fellowship, professed that as a person of faith, she views her job as loving people "in the fullest expression of who they are as a human being" to "affirm the inherent dignity of every person." Father Antonio Egiguren of St. John's Cathedral shared his conviction that solutions are in our hearts as he extolled the golden rule. In step with Father Egiguren, Phillip Thompson, Former President of the Islamic Center of Boise, stated, "If we injure or do harm to one member of humanity, we do injury or harm to all of it." Or, in the words of religious educator John Thomas, to solve these issues, we must avoid the "Puritan Mistake:" "liberty for me, but not for thee."
Academic dialogue
The dialogue that unfolded at the Summit is mirrored in the high-level academic debates compacted into an innovative book: Religious Freedom, LGBT Rights, and the Prospects for Common Ground.[xv] The book, edited by Wilson and Yale Law School Professor William N. Eskridge, Jr., was digested by several Summit panelists. Led by Wilson, each panelist responded to a chapter from the volume.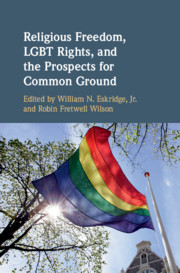 President Pro Tempore Hill reviewed former Utah Governor Michael Leavitt's chapter, Shared Spaces and Brave Gambles, which details five elements that bring opposing parties to legislative compromise: (1) common pain, (2) a shared belief, (3) political equilibrium, (4) skilled conveners, and (5) simultaneous benefit. President Pro Tempore Hill stated that many of these elements are already in play in the Idaho Legislature. Concerning simultaneous benefit, he expressed, "I am convinced, after studying this as long as I have, that each side can have every right that they want." The chapter reviewed by Representative McCrostie, Choosing Among Non-Negotiated Surrender, Negotiated Protection of Liberty and Equality, or Learning and Earning Empathy, written by Alan Brownstein, examines another feature of the approach toward cooperative solutions: greater dialogue, tolerance, and engagement. Rather than going "to war and try[ing] to annihilate each other," Representative McCrostie said Idaho is "not choosing coercive negotiation tactics. What we are choosing to do is choose greater dialogue by the opposing sides." As Brownstein recognizes, the "essence of liberty in a free society is the right to act wrongfully in the eyes of others."
Although people of faith and the LGBT community might not see eye to eye, Doug Laycock's chapter, Liberty and Justice for All, reviewed by Baxter during the Summit, lays out five similarities between the two groups: both (1) believe some "aspects of human identity are so fundamental that they should be left to each individual," (2) feel their identity cannot be changed by a simple act of will, (3) have been told their rights do not deserve legal protection, (4) desire to live their lives publicly, and (5) have seen their highest virtues condemned. Of this, Baxter instructed that people must "learn to accept the other side's own view of what they are," or, put another way, give people "the right to be wrong."
Senator Burgoyne, who reviewed Rabbi David Saperstein's chapter, Masterpiece Cakeshop: Impact on the Search for Common Ground, disagreed with one of Saperstein's conclusions that now is the time for a compromise between faith and sexuality. He argued that because these disagreements will "go on forever," the courts are the "best place to resolve these rights," where "religious freedom [is] as every bit as important as LGBTQ rights." Capping off the book discussion, University of Idaho College of Law Professor Shaakirrah Sanders recognized the fraught jurisprudence of religious liberty and the torch the LGBT community now carries for civil rights. While agreeing that compromise is enviable, she highlighted that "[w]hile we're waiting to reach our nirvana on these issues, rights are violated and generations of people are affected."
Beyond these chapters, Prospects for Common Ground offers a "360-degree view of culture-war conflicts around faith and sexuality." The mere existence of the book serves to discredit the notion that religious liberty and LGBT rights are mutually exclusive, with one necessarily prevailing over the other, as well as the notion that productive dialogue on these issues eludes American society. In the book, authors offer multiple approaches to common ground lawmaking and peaceful coexistence, each of which is instructive to state and national efforts to legislate fairness for all people. What is more is that these solutions come from a vast array of voices: religious liberty and equality advocates, faith leaders, academics, government officials, and legislators. Together, the chapters in Prospects for Common Ground serve as an academic gateway to nuanced, pragmatic, and dispassionate solutions that afford both the faith and LGBT communities a life without discrimination.
Conclusion
It is our opinion that the Summit was an Idaho translation of this high-level discussion, made plain for the communities who fear discrimination among us. As dialogue rolls forward in 2019, we hope that inclusive models and creative proposals—taking faith, sexuality, and gender into account—will emerge as frontrunners. In this arena, the law has the capacity to elevate many Idahoans out of second-class status while affirming the human dignity of all. We hope the Idaho Legislature takes that step.

---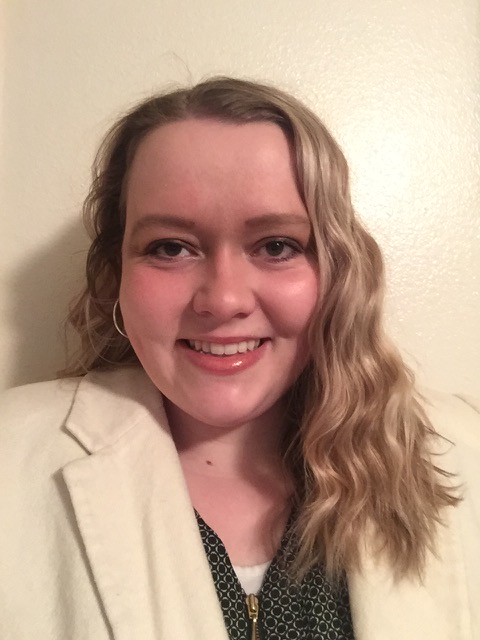 Kylie Hicks is a second-year student at Concordia University School of Law and co-chaired the Organizing Committee for the Interfaith & LGBT Summit as Vice President of the Concordia Student Chapter of the J. Reuben Clark Law Society.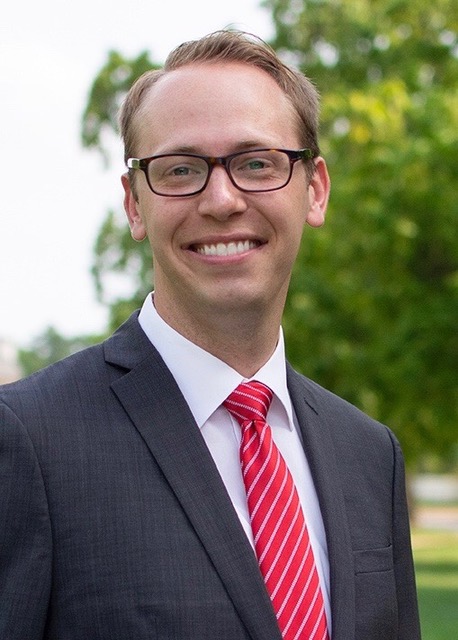 Tanner J. Bean is an associate attorney at Fabian VanCott in Salt Lake City, Utah, and was at the time of writing a Staff Attorney to the Honorable Judge Molly Huskey of the Idaho Court of Appeals and a Law Fellow with the Fairness for All Initiative. He co-chaired the Organizing Committee for the Interfaith & LGBT Summit as a Board Member of the Boise, Idaho Chapter of the J. Reuben Clark Law Society. Views expressed here are in his personal capacity.
---
[i] Recordings of the Summit, as well as media coverage and panelists' biographical information, are available at: goo.gl/QT8VtP
[ii] Betsy Russell, Sen. Hill on LGBT Discrimination Protections: 'The Risks of Doing Nothing Are Great on Both Sides,' Idaho Press, Feb. 20, 2019.
[iii] Boise, Idaho, Code §§ 3-14-14, 5-15-1 et seq.
[iv] S.B. 1015, 65th Leg., 1st Reg. Sess. (Idaho 2019).
[v] Available upon request from President Pro Tempore Hill's office.
[vi] Idaho Code § 67-5901 et seq.
[vii] 42 U.S.C. §§ 2000a et seq., 2000e et seq., 3601 et seq.; see also Robin Fretwell Wilson, Bargaining for Civil Rights: Lessons from Mrs. Murphy for Same-Sex Marriage and LGBT Rights, 95 Boston U. L. Rev. 951, 973–82 (2015) (discussing lasting exemptions from federal civil rights law).
[viii] Idaho Code § 67-5910.
[ix] Idaho Code § 73-401 et seq.
[x] See Ricks v. Contractors Bd., 164 Idaho 689, 435 P.3d 1 (Ct. App. 2018); State v. Cordingley, 154 Idaho 762, 302 P.3d 730 (Ct. App. 2013); State v. White, 152 Idaho 361, 271 P.3d 1217 (Ct. App. 2011); Hyde v. Fisher, 143 Idaho 782, 152 P.3d 653 (Ct. App. 2007); Lewis v. State, Dep't of Transp., 143 Idaho 418, 146 P.3d 684 (Ct. App. 2006); Roles v. Townsend, 138 Idaho 412, 64 P.3d 338 (Ct. App. 2003).
[xi] Robin Fretwell Wilson, Common Ground Lawmaking: Lessons for Peaceful Coexistence from Masterpiece Cakeshop and the Utah Compromise, 51 U. Conn. L. Rev. 1, 14–19 (2019) (forthcoming), https://papers.ssrn.com/sol3/papers.cfm?abstract_id=3360500.
[xii] Masterpiece Cakeshop, Ltd. v. Colorado Civil Rights Comm'n, 138 S. Ct. 1719 (2018).
[xiii] Local Non-Discrimination Ordinances, Movement Advancement Project (Mar. 28, 2019), http://www.lgbtmap.org/equality-maps/non_discrimination_ordinances.
[xiv] Maria L. La Ganga, Meridian bans LGBTQ Discrimination, Sending What Backer Calls 'Message of Inclusivity,' Idaho Press, Sept. 26, 2018; Meridian, Idaho, Code § 1-15-1.
[xv] Religious Freedom, LGBT Rights, and the Prospects for Common Ground (William N. Eskridge, Jr. & Robin Fretwell Wilson eds., 2018).