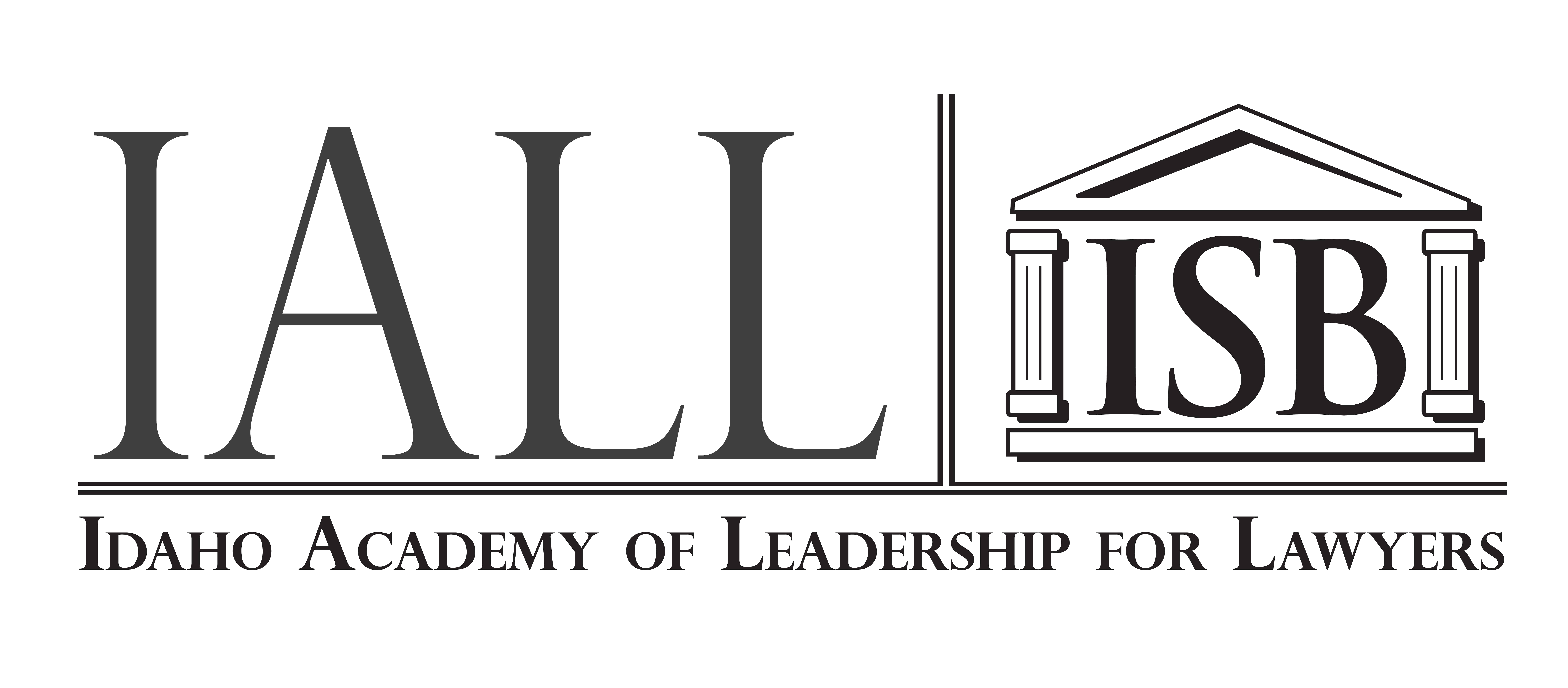 The Idaho Academy of Leadership for Lawyers (IALL) is a highly selective and well-regarded leadership training program for lawyers from across the State of Idaho.  It brings together some of the best and brightest attorneys in Idaho and teaches them leadership skills that they can use to improve the legal profession and transform their communities. 
Qualified applicants will have been admitted to practice law for at least five years, or be licensed to practice law and have five years professional work experience. The training involves an initial two-day session followed by four one-day sessions and a graduation. Each class consists of a diverse group of 12-16 members of the Idaho State Bar. Each participant must commit to the five scheduled IALL sessions. At the completion of the first year program, IALL graduates will be asked to develop, implement, and evaluate a legacy project the following year to benefit their local legal community and/or their community as a whole.
The mission of the Idaho Academy of Leadership for Lawyers (IALL) is to promote diversity and inspire the development of leadership within the legal profession. IALL will bring together lawyers from different practice areas with a variety of backgrounds from all across Idaho. IALL will build upon the participant's leadership skills and promote leadership experiences by:
Teaching accepted and recognized leadership skills and philosophies;
Fostering professional relationships within the Idaho legal community and the greater community;
Promoting professional obligations and community service; and
Raising awareness among lawyers of the broad range of issues and challenges facing leaders today.
For additional information regarding IALL, please contact Mahmood Sheikh, (208) 334-4500.
How to Apply
Application window for the 2017-18 Class is now closed.
The Idaho Academy of Leadership for Lawyers proudly announces their 2017-2018 class. The participants comprise of the largest class in the Academy's 7 year history. The diverse makeup of the class features attorneys from Coeur d'Alene to Idaho Falls who encompass an array of practice areas. Participants have pursued legal careers in the fields of nonprofit, legal education, government, corporate and private practice. Their legal experiences range from 5 to 21 years of admission into the Idaho State Bar. Participants will meet in Boise over five sessions for this interactive leadership training program designed specifically for lawyers. The first session will take place September 22 & 23 will Graduation set for May 4, 2018. For more information please contact Idaho State Bar Deputy Executive Director Mahmood Sheikh at (208) 334-4500.
Nancy H. Austin
Twin Falls Co. Prosecuting Attorney's Office

Alec T. Pechota
DisAbility Rights Idaho

Geoffrey M. Baker
Elam & Burke

Jeremy L. Pittard
Jeremy L. Pittard, Attorney at Law

Michael J. Hanby II
Pedersen & Whitehead

Matthew D. Romrell
McBride Roberts & Romrell

Jordan L. Heller
St. Luke's Health System

Kristina J. Running
University of Idaho College of Law

Dylan B. Lawrence
Varin Wardwell LLC

Leon J. Samuels
Boise City Attorney's Office

Lucas T. Malek (deferred from 2016-17 class)
Smith + Malek PLLC

Shelli D. Stewart
Idaho Power Company

Tara Malek
U.S. Attorney's Office, District of Idaho

 

Eileen McGovern Paul
Coeur d'Alene City Attorney's Office

 
"IALL engenders professional development, camaraderie, self-improvement, and maybe even a little enlightenment. I thoroughly enjoyed my experience with IALL. Meeting Idaho's legal greats and inspirational leaders in sports, business and the community will energize your professional practice and your personal volunteerism."
- Andrea Courtney, Boise
"The IALL program has been invaluable for establishing strong relationships and connections with other leaders in the Bar that I may not have otherwise had an opportunity to get to know. The programs and speakers are all in-depth, right on point, and have inspired me to get to work in my community to make a difference."
- Anna Eberlin, Boise