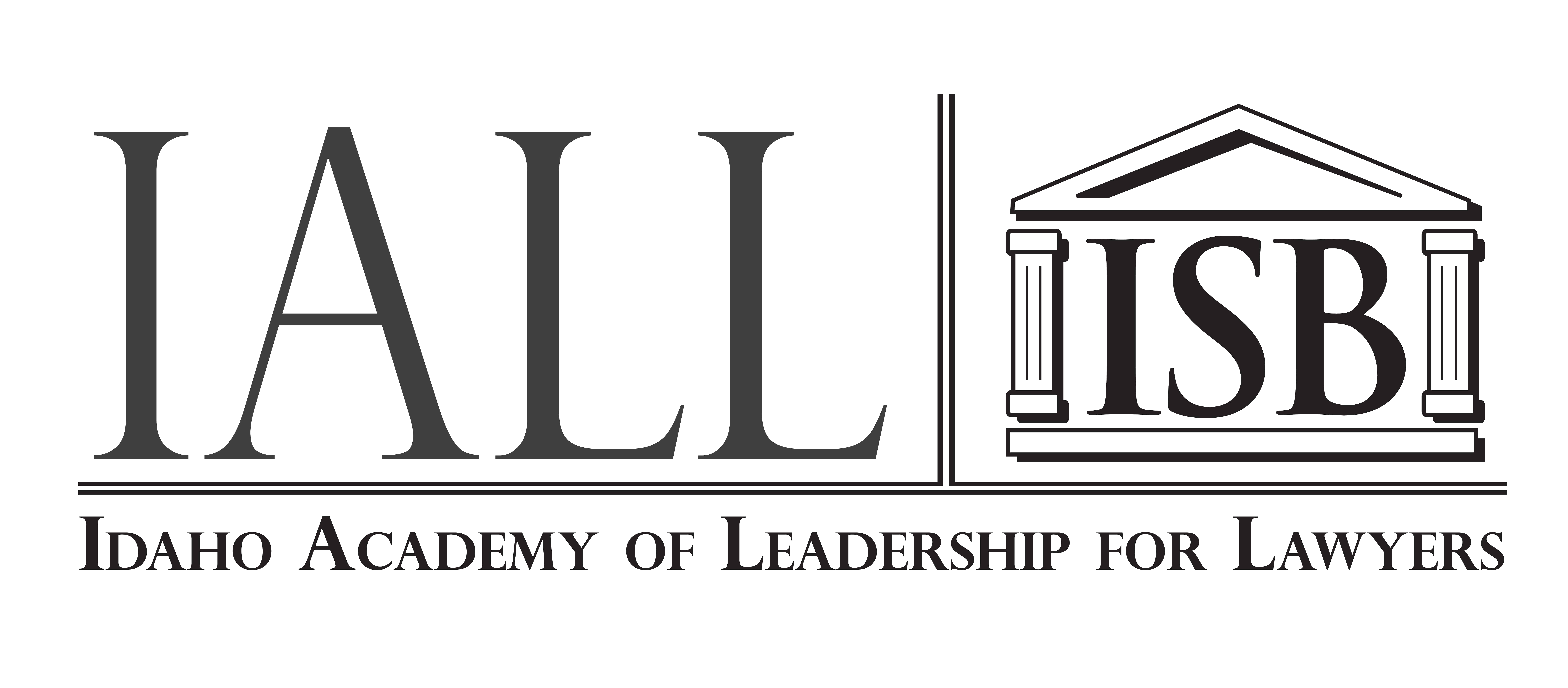 The Idaho Academy of Leadership for Lawyers (IALL) is a highly selective and well-regarded leadership training program for lawyers from across the State of Idaho.  It brings together some of the best and brightest attorneys in Idaho and teaches them leadership skills that they can use to improve the legal profession and transform their communities. 
Qualified applicants will have been admitted to practice law for at least five years, or be licensed to practice law and have five years professional work experience. The training involves an initial two-day session followed by four one-day sessions and a graduation. Each class consists of a diverse group of 12-16 members of the Idaho State Bar. Each participant must commit to the five scheduled IALL sessions. At the completion of the first year program, IALL graduates will be asked to develop, implement, and evaluate a legacy project the following year to benefit their local legal community and/or their community as a whole.
The mission of the Idaho Academy of Leadership for Lawyers (IALL) is to promote diversity and inspire the development of leadership within the legal profession. IALL will bring together lawyers from different practice areas with a variety of backgrounds from all across Idaho. IALL will build upon the participant's leadership skills and promote leadership experiences by:
Teaching accepted and recognized leadership skills and philosophies;
Fostering professional relationships within the Idaho legal community and the greater community;
Promoting professional obligations and community service; and
Raising awareness among lawyers of the broad range of issues and challenges facing leaders today.
For additional information regarding IALL, please contact Mahmood Sheikh, (208) 334-4500.
How to Apply
Please complete and return the IALL Application, a cover letter providing information about yourself and two (2) reference letters to: Idaho Academy of Leadership for Lawyers, PO Box 895, Boise, ID 83701 or hand-deliver to The Law Center, 525 W. Jefferson, Boise, ID, by 4:30 p.m. (MDT) on Friday, July 13, 2018. Applicants will be notified on July 27, 2018, as to whether they have been accepted into the 2018-2019 class.
PROGRAM REQUIREMENTS
• Submit your completed application, cover letter and two (2) reference letters by 4:30 p.m. (MDT) on July 13, 2018.
• Be a member of the Idaho State Bar, in good standing.
• Have been admitted to the practice of law in a U.S. jurisdiction for a minimum of five (5) years or practiced law and have five years professional work experience. Eligibility dates based on original Date of Admission.
• Participants are expected to carry out a service project in their community.
• 100% attendance and participation is required for all sessions.
Applications are now being accepted for the IALL Class of 2018-19. Apply Now!
"Leadership skills are important for any lawyer or judge. By participating in the IALL program, I greatly improved my leadership skill set. The IALL program was an extremely rewarding and fulfilling experience."
- Mischelle Fulgham, Coeur d'Alene
"IALL surpassed my expectations - and the principles I learned in the Academy from great instructors and fellow participants have helped me become a better leader, follower, attorney, citizen, volunteer, neighbor, and father."
- Matthew Romrell, Idaho Falls