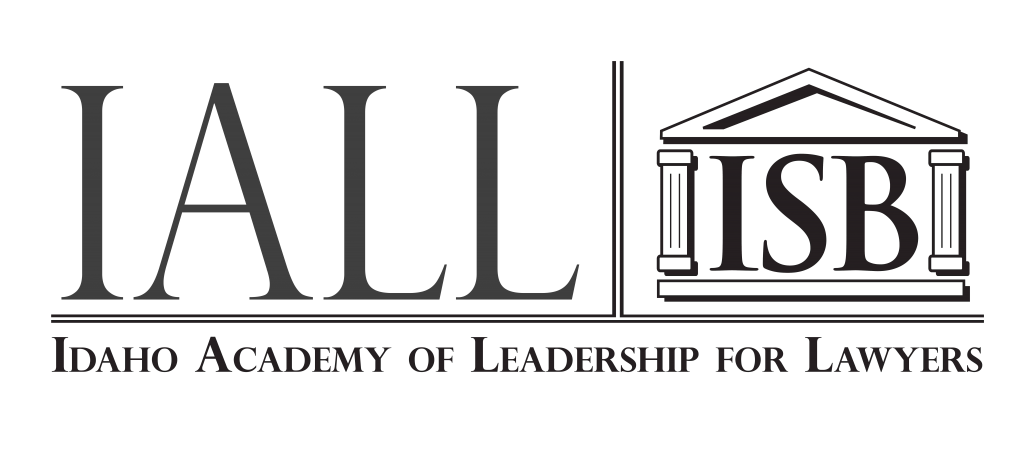 The Idaho Academy of Leadership for Lawyers (IALL) is a highly selective and well-regarded leadership training program for lawyers from across the State of Idaho. It brings together some of the best and brightest attorneys in Idaho and teaches them leadership skills that they can use to improve the legal profession and transform their communities.
Qualified applicants will have been admitted to practice law for at least five years, or have five years of professional work experience with at least two of those years practicing law. The training involves an initial two-day session followed by four one-day sessions and graduation. Each class consists of a diverse group of 12-16 members of the Idaho State Bar. Each participant must commit to the five scheduled IALL sessions. At the completion of the first-year program, IALL graduates will be asked to develop, implement, and evaluate a legacy project the following year to benefit their local legal community and/or their community as a whole.
The mission of the Idaho Academy of Leadership for Lawyers (IALL) is to promote diversity and inspire the development of leadership within the legal profession. IALL will bring together lawyers from different practice areas with a variety of backgrounds from all across Idaho. IALL will build upon the participant's leadership skills and promote leadership experiences by:
Teaching accepted and recognized leadership skills and philosophies;
Fostering professional relationships within the Idaho legal community and the greater community;
Promoting professional obligations and community service; and
Raising awareness among lawyers of the broad range of issues and challenges facing leaders today.
For additional information regarding IALL, please contact Teresa Baker, (208) 334-4500.
The 2022-2023 Leadership Academy schedule is below. Please note that the dates are subject to change. Class members are expected to attend every session.
Session I – October 7/8, 2022
Session II – November 4, 2022
Session III – January 27, 2023
Session IV – March 31, 2023
Session V – May 12, 2023
Graduation – May 12, 2023
How to Apply
Information that will be requested will include the IALL Application, a cover letter providing information about yourself, and two (2) reference letters. Contact Teresa Baker at tbaker@isb.idaho.gov with any questions.
The application period for the 2022-2023 class has ended. The next application period will open in June 2023. Please check back here for details.
Class Roster (2022-2023)
The diverse makeup of the class features attorneys from Idaho Falls to Post Falls who encompass an array of practice areas. Participants have pursued legal careers in the fields of higher education, local, state, and federal government, private practice, and public advocacy. Their legal experience ranges from 5 to 18 years of admission into the Idaho State Bar. Participants will meet in Boise over five sessions for this interactive leadership training program designed specifically for lawyers.
Class of 2022 – 2023
Nikeela R. Abrams
Abrams Law, PLLC – Boise
Benjamin J. Allen
Shoshone County Prosecuting Attorney's Office – Wallace
Janice Beller
Canyon County Prosecuting Attorney's Office – Caldwell
Cassandra F. Cooper
Cooper Law – Boise
Frank J. Fazzio
Zasio Enterprises, Inc.- Boise
Debra A. Groberg
Nevin, Benjamin & McKay LLP – Boise
Anne E. Henderson
Holland & Hart LLP – Boise
Ryan S. Hunter
Coeur d'Alene City Prosecuting Attorney's Office – Coeur d' Alene
John R. Jameson
First American Title Insurance Company – Boise
Alexis R. Klempel
Canyon County Prosecuting Attorney's
Office – Caldwell
Katelynn C. Mitchell
Hooper Mitchell & Associates – Boise
David J. Morse
U.S. Attorney's Office – Boise
Shayne T. Nope
City of Twin Fall- Twin Falls
Meagan M. Roumanis
Boise State University – Boise
Samantha S. Schmitt
St. Luke's Health Systems – Boise
R. Jonathan Shirts
Third Judicial District – Nampa
Casey R. Simmons
Winston & Cahatt Lawyers –
Coeur d'Alene
Current Steering Committee Members
Past Steering Committee Members
"IALL engenders professional development, camaraderie, self-improvement, and maybe even a little enlightenment. I thoroughly enjoyed my experience with IALL. Meeting Idaho's legal greats and inspirational leaders in sports, business, and the community will energize your professional practice and your personal volunteerism."
– Hon. Andrea Courtney, Caldwell
"The IALL program has been invaluable for establishing strong relationships and connections with other leaders in the Bar that I may not have otherwise had an opportunity to get to know. The programs and speakers are all in-depth, right on point, and have inspired me to get to work in my community to make a difference."
– Anna Eberlin, Boise