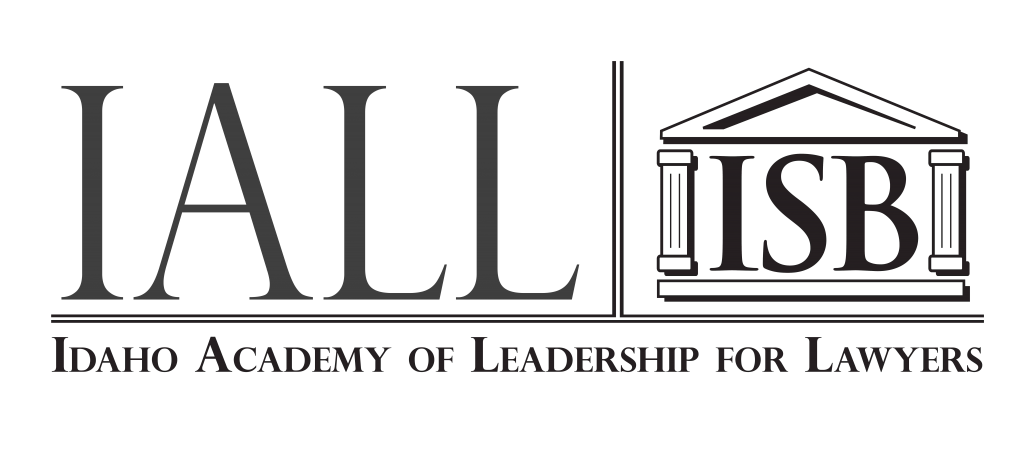 The Idaho Academy of Leadership for Lawyers (IALL) is a highly selective and well-regarded leadership training program for lawyers from across the State of Idaho. It brings together some of the best and brightest attorneys in Idaho and teaches them leadership skills that they can use to improve the legal profession and transform their communities.
Qualified applicants will have been admitted to practice law for at least five years, or be licensed to practice law and have five years of professional work experience. The training involves an initial two-day session followed by four one-day sessions and graduation. Each class consists of a diverse group of 12-16 members of the Idaho State Bar. Each participant must commit to the five scheduled IALL sessions. At the completion of the first-year program, IALL graduates will be asked to develop, implement, and evaluate a legacy project the following year to benefit their local legal community and/or their community as a whole.
The mission of the Idaho Academy of Leadership for Lawyers (IALL) is to promote diversity and inspire the development of leadership within the legal profession. IALL will bring together lawyers from different practice areas with a variety of backgrounds from all across Idaho. IALL will build upon the participant's leadership skills and promote leadership experiences by:
Teaching accepted and recognized leadership skills and philosophies;
Fostering professional relationships within the Idaho legal community and the greater community;
Promoting professional obligations and community service; and
Raising awareness among lawyers of the broad range of issues and challenges facing leaders today.
For additional information regarding IALL, please contact Teresa Baker, (208) 334-4500.
How to Apply
The application deadline for the IALL Class of 2020-2021 is August 10, 2020. Information that will be requested will include the IALL Application, a cover letter providing information about yourself, and two (2) reference letters. You may submit your application via email to Teresa Baker at tbaker@isb.idaho.gov. To download the 2020-2021 application, select: IALL Application. If you would like to download the portion of the application portion that must be completed in Word format, click HERE.
Current Class Roster
The diverse makeup of the class features attorneys from Genesee to Hailey who encompass an array of practice areas. Participants have pursued legal careers in the fields of higher education, local, state, and federal government, private practice, and public advocacy. Their legal experience ranges from 5 to 18 years of admission into the Idaho State Bar. Participants will meet in Boise over five sessions for this interactive leadership training program designed specifically for lawyers.
Class of 2020 – 2021
Sarah Mari Brekke
St. Luke's Health System
Brittany Ann Kreimeyer
McConnell Wagner Sykes & Stacey, PLLC
Lisa Michelle Carlson
Holland & Hart LLP
Mark David Perison
Mark D. Perison, PA
Jennifer Rose Chadband
Zasio Enterprises, Inc.
Tyler Jeffrey Rands
RandsLaw, PLLC
Erik W. Ellis
Canyon County Public Defender's Office
Tawnya Rawlings
Fremont County Prosecuting Attorney's Office
Jill Suzette Holinka
Holinka Law, PC
Elizabeth DeLayne Sonnichsen
Duke Evett, PLLC
Cheyenne Moana House
Elam & Burke
T. Matthew Wolfe II
Ludwig Schoufler Miller Johnson, LLP
Lindsey M. Welfley
Idaho State Bar
Current Steering Committee Members
Past Steering Committee Members
"IALL engenders professional development, camaraderie, self-improvement, and maybe even a little enlightenment. I thoroughly enjoyed my experience with IALL. Meeting Idaho's legal greats and inspirational leaders in sports, business, and the community will energize your professional practice and your personal volunteerism."
– Hon. Andrea Courtney, Caldwell
"The IALL program has been invaluable for establishing strong relationships and connections with other leaders in the Bar that I may not have otherwise had an opportunity to get to know. The programs and speakers are all in-depth, right on point, and have inspired me to get to work in my community to make a difference."
– Anna Eberlin, Boise