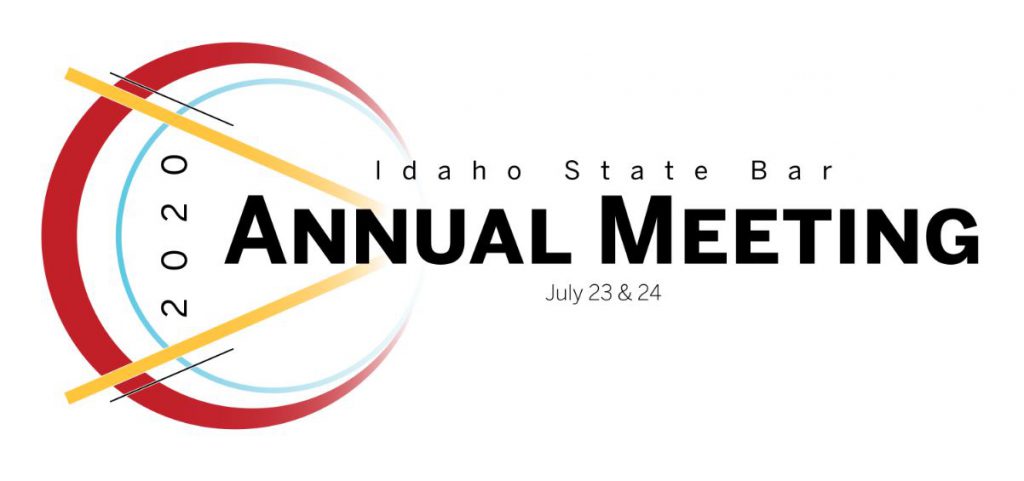 ---
Idaho State Bar 2020 Virtual Annual Meeting
CLE Programs
Virtual Annual Meeting Live CLE Webcast Series
The Idaho State Bar is offering its Annual Meeting CLE programs virtually via live webcast on July 23rd and 24th. All courses will be credited as in-person or live credit. Attendees will be given the opportunity to earn 11.0 CLE credits right from the comfort of their home or office.
Programs will be offered through the Idaho Law Foundation Continuing Legal Education (CLE) Committee, Idaho State Bar Practice Sections, University of Idaho College of Law, Concordia University School of Law, and many others.
Registration Fee: $50 per CLE Course
Please see the discounts offered for webcast bundles. Due to the restructuring of the Annual Meeting, these will be the only discounts offered for attendance this year.
CLE Course Schedule
All times are Mountain Daylight Time.
Thursday, July 23
8:30 am – 10:00 am – CLE Session #1
Ethical Guidance for Cyber-Crime Prevention and Response
10:15 am – 11:45 pm – CLE Session #2
2020 Election: What to Watch for This Year (Lawyer's Version)
1:30 pm – 3:00 pm – CLE Session #3 – Concurrent Sessions
Violence in the Legal Profession: A Study of Idaho and Our Colleagues Nationwide
Ten Things All Idaho Lawyers Should Know About Indian Law and Business or Murder? U.S. Supreme Court and Herrera v. Wyoming
3:15 pm – 4:45 pm – CLE Session #4
Friday, July 24
8:00 am – 10:00 am – CLE Session #5 – Concurrent Sessions
The Life Cycle of an Estate Plan: Understanding Estate Planning Strategies and Use of Basic Wills and Trusts
10:15 am – 11:45 am – CLE Session #6 – Concurrent Sessions
Holistic Trial Work: Viewing Your Case with an Eye Towards Appeal and Viewing Your Appeal with an Eye Toward Remand
Lawyer Well-Being: What's It Got to Do With Me?
1:15 pm – 2:45 pm – CLE Session #7 – Concurrent Sessions
Understanding and Representing Clients Who've Experienced Trauma in Family Law Matters – What You Need to Know About Trauma
WEBCAST BUNDLE OPTIONS OFFER SAVINGS
Webcast bundles are available for the two-day event and for each day. One day bundles provide 1 FREE CLE session per day, a savings of $50 and the two day bundle will save you at total of $125. To register for a bundle, please click on buttons on the left.
LIMITED IN-PERSON ATTENDANCE AVAILABLE
There will be a limited number of spots available to attend the CLE sessions in-person on a first come, first serve basis. All CLEs will be held at Concordia University School of Law. All in-person events will require attendees to follow social distancing guidelines and to wear a face covering.
Please note that we will be unable to take "Walk-In" in-person registrations on the day of the event.
If you would like to attend multiple CLEs in-person as a bundle, please contact Courtnie Hovley at chovley@isb.idaho.gov or call our office at 208-334-4500.
Virtual Exhibit Hall
Welcome to the 2020 Virtual Exhibit Hall!

The Idaho State Bar thanks the sponsors of the 2020 Virtual Annual Meeting!
We encourage members to take a few minutes and "walk the show floor," visit the virtual exhibit booths by clicking on our sponsors logos. Many of our sponsors are offering special pricing and other incentives to members of the Idaho State Bar.
Business Card Drawing During Webcasts
What is an exhibit hall without the chance to win prizes? Our Virtual Exhibit Hall will have an opportunity for all attendees to win some fabulous prizes. The names of the attendees of any of the Annual Meeting webcasts will be placed into a drawing for prizes from our sponsors. One entry will be given for each CLE attended. The live drawing will be held at the end of CLE courses at various times throughout the Annual Meeting.
Prizes include:
Bose Speaker donated by LawPay
$250 Grant to the Charity of Your Choice donated by the Idaho Community Foundation
University of Idaho Gift Bag
Free On-Demand CLEs from the 2020 Virtual Annual Meeting
Milestone Honorees
60-Year Attorneys
James Annest, Burley
Robert C. Youngstrom, Boise
50-Year Attorneys
Robert Aldridge, Boise
Robert Audley, Lake Oswego
Robert Baker, Boise
Robert Bilow, Sequim
Michael Brady, Boise
Melvin Buffington, Boise
David Cantrill, Boise
Paul Clark, Lewiston
Thomas Cooke, Green Valley
W.Brent Eames, Logan
Daniel Featherston, Sandpoint
Norman Gissel, Coeur d'Alene
Richard Hall, Boise
John Hancock, Bellevue
Linda Judd, Boise
David King, Salt Lake City
Donald Knickrehm, Boise
Joseph McCollum, Boise
Gary Montgomery, Boise
S. Richard Rubin, Boise
Gardner Skinner, Boise
Richard Skinner, Boise
Wayne B. Slaughter, Boise
Franklin Smith, Idaho Falls
Theodore Spangler, Boise
John St. Clair, Idaho Falls
G. Kent Taylor, Twin Falls
Lary Walker, Walker
Richard P. Wallace, Post Falls
James C. Weaver, McCall
Distinguished Lawyer and Jurist Award Ceremony
Join us virtually for the Idaho State Bar Distinguished Lawyer and Jurist Award Program at 5:45 p.m. on Thursday, July 23rd. Please click HERE to go to the viewer to see the ceremony.
2020 Distinguished Lawyer Award
Maureen Laflin – Moscow
Gary Cooper – Pocatello
2020 Distinguished Jurist Award
Justice Jim Jones – Boise