By Gary L. Cooper
At the conclusion of the 2023 Idaho State Bar Annual Meeting, I was passed the gavel to start serving as president for the next year.  To be honest, I am apprehensive to take on this responsibility.  The Idaho State Bar consists of 7,118 licensed attorneys, about 5,000 of which are active.  I have often commented that Idaho is a small bar and we all know each other.  Whether that was ever true, I don't know.  I do know that there must be about 7,000 Idaho lawyers I have never met.  As a consequence, I worry about why I should suddenly be the president of an organization of lawyers, the vast majority of whom I have never met.  The fact is that the Idaho State Bar functions, not because of who is serving as president, but because it has a capable and dedicated administrative staff.   Diane Minnich has worked for the Idaho State Bar for 38 years -33 as Executive Director of the Bar and of its charitable arm, the Idaho Law Foundation.  She has the institutional knowledge necessary to ensure that we Commissioners do not make the same mistakes that were made in the past.  A year and a half ago, Joe Pirtle replaced Brad Andrews as Bar Counsel.  Those were big shoes to fill, but Joe has proven that is more than capable of handling the responsibilities of being general counsel to the Bar.  Thankfully, the Bar is in capable hands, regardless of who serves as president.
The Annual Meeting made me proud to be an Idaho lawyer.  On the first evening, we gathered to recognize the Distinguished Lawyers, the Distinguished Jurist, and the Outstanding Young Lawyer for 2023.  As I entered the JUMP facility to go to the reception, I observed five young men and women who I later learned were students at the University of Idaho College of Law.  At about the same time the five members of the Idaho Supreme Court walked in.  Without missing a beat, the Justices started up a conversation with the students which continued as they went up the elevator to the meeting room.  It made me realize how lucky we are to have justices who are so genuinely approachable.  Don't get me wrong, they are still pretty intimidating when one stands up to argue before them, but in my opinion, they haven't forgotten where they come from.
If you never attend the Annual Meeting, please make time in your schedule to at least attend the reception for the Distinguished Lawyers, Jurist, and Outstanding Young Lawyer, as well as the reception to celebrate those who have been admitted for 50, 60, and 65 years.  I promise you will come away feeling good that you decided to become a lawyer and feeling lucky that you decided to practice in Idaho.  We had the pleasure of honoring Justice Roger Burdick, Larry Hunter, Marvin Smith, and Ashley Marelius this year.  All, except Ashley, have devoted 45+ years to the law in Idaho.  Their acceptance speeches were authentic and thoughtful.  It was easy to see why they are considered "distinguished."  Ashley hasn't been around as long, but her video interview showed that she is a superstar.  She mentioned Alyson Foster and Kristin Bjorkman as role models, which is proof enough that she has excellent judgment and will go far if she walks in their footsteps.
The reception for lawyers who have been admitted for 50, 60, and 65 years is a "must-attend" event every year.  Bill Parsons and Dick Smith are legends in Cassia County.  Both graduated from the University of Idaho College of Law.  Only Bill was able to attend the reception this year.  He shared that his and Dick's graduating class consisted of 13 members.  He and Dick have practiced together for 65 years.
Another legend of Idaho law is the Honorable Jesse Walters, who was admitted 60 years ago.  He practiced privately for 13 years, served as a District Judge in Ada County for five years, served as one of the original three judges on the Idaho Court of Appeals for 15 years, and then served as a Justice on the Idaho Supreme Court where he retired in 2003.  Tony Park, another University of Idaho grad, was also admitted 60 years ago and is equally legendary.  He served as Idaho's Attorney General from 1971 to 1975.  While he was Attorney General, Tony created the Consumer Protection Agency which continues its work today.  Tony Park's legacy is not just based on being elected Attorney General.  He employed and trained many lawyers who have distinguished themselves in the practice of law.  When we heard from those who were admitted 50 years ago, three of them worked for Tony as Deputy Attorneys General.  The likes of Bill Gigray, a respected municipal lawyer, Hon. Ron Bruce, a respected jurist, and Jim Kaufman, a respected estate planner, launched their storied legal careers under the tutelage of Tony Park.  Tony's legacy includes the example he set for many young lawyers who were just starting their careers.
It was a pleasure to hear from those who were admitted 50 years ago.  Those who attended the University of Idaho College of Law were 3Ls when I started law school in Moscow.  Darrel Aherin, a fixture and fierce advocate from Nez Perce County, appeared in a large cowboy hat, but not his largest which is reserved for Idaho Trial Lawyers Association functions.   The Honorable Ron Bruce trained Reed Larsen as a law clerk.  I am proud to say that Reed is my law partner and a great lawyer.  A special treat was the appearance by the 42nd and 43rd women admitted to the Idaho State Bar, both of whom graduated from the U of I College of Law.  Lucinda Weiss was the 43rd and a year after graduating, at the age of 24, she was elected prosecuting attorney for Bonner County.  She then worked in the legal department of Goodyear Tire & Rubber Co. for more than 25 years.  The Honorable Linda Cook was the 42nd and served as a magistrate judge in Bonneville County from 1976 until she transitioned to senior status on December 31, 2010.  Jerry Reynolds was also present from the Seventh Judicial District, where he served as a magistrate judge.  Another judge, the Honorable William Woodland, served as a magistrate judge and district judge in Bannock County for more than 20 years.
Don Farley and Paul Street both started their private practice legal careers at Moffatt Thomas in Boise.  Paul transitioned into the corporate world where he was general counsel for BMCH, a large, publicly traded building products and services company.  Don soon became one of the most renowned trial lawyers in Idaho and is still a formidable opponent in the courtroom.
Finally, although they received no award for their years of service to our profession, Mary York, Justice Colleen Zahn, Justice Jim Jones, Dean Emeritus Don Burnett, Jr., and Judge Karen Lansing provided their thoughts about what we need to do to preserve independence, impartiality, and excellence in Idaho's judiciary.  The experience they brought to the discussion of this timely topic can't be matched.
I am in awe from listening to and mingling with the distinguished members of our profession and those who have lived and learned how to practice a very demanding profession for 50, 60, or even 65 years.  The Idaho State Bar will be in Boise again next year for the Annual Meeting.  If you attend nothing else, make time to come to the receptions for those who have distinguished themselves during their careers and see and hear from some legends.  It will make you realize how lucky we are to be Idaho lawyers.  We all need to be reminded of that from time to time.  See you in Boise in July 2024.
---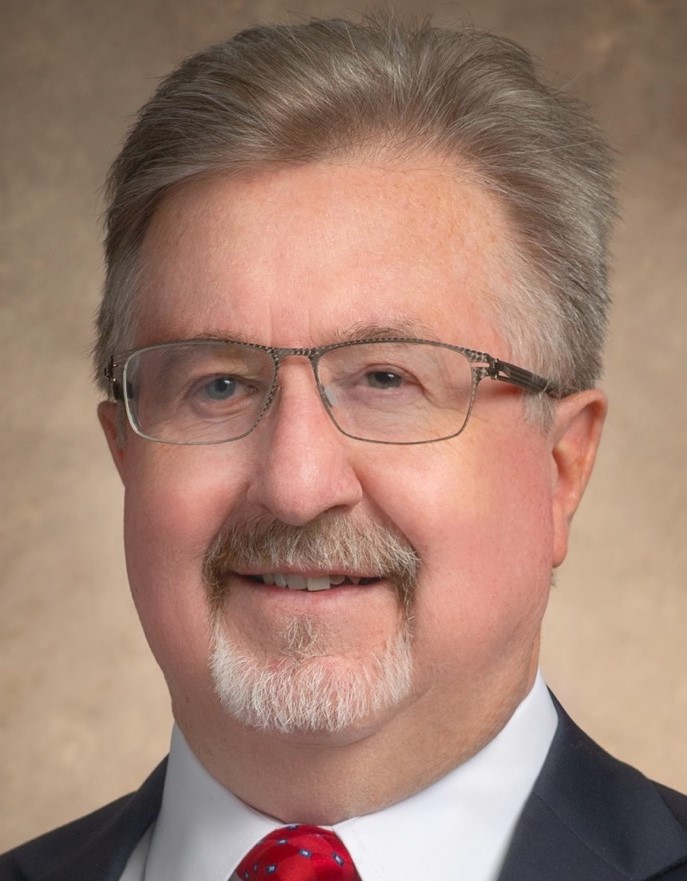 Gary L. Cooper was raised in Idaho. He received an undergraduate degree and a law degree from the University of Idaho. He has practiced in Pocatello since 1975. For the last 25 years, he has practiced with his good friends, Reed Larsen and Ron Kerl. He and his wife, Jane, have three children and five grandchildren.