By Carey A. Shoufler
Title Page Image Caption: 2023 Idaho Mock Trial Champions, The Ambrose School, Meridian.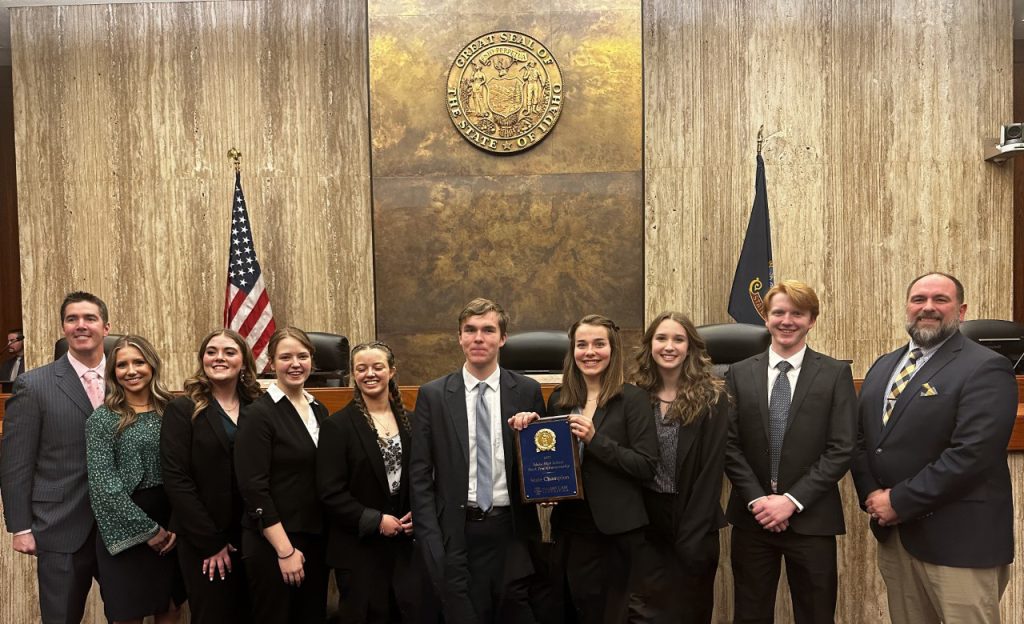 The Idaho Law Foundation's Law Related Education Program hosted its annual High School Mock Trial State Championship from Wednesday to Friday, March 15 to 17. For the first time since 2019, the three-day tournament was held in-person. This year, students explored a criminal case that centered on a charge of theft by possession of stolen property charged against a college student who had started a business refurbishing computers for other students.
For 2023, 216 high school students from 24 teams registered to participate in the mock trial competition. One hundred thirty-eight teachers, judges, attorneys, and other community leaders donated their time to serve as coaches, advisors, judges, and competition staff.
Twelve teams advanced from regional competitions held in Lewiston and Boise. These teams participated in four rounds of competition on Wednesday and Thursday at the Ada County Courthouse with the top two teams facing off for the state championship at the Idaho Supreme Court on Friday morning. The following schools participated in Idaho's state tournament:
The Ambrose School (Meridian, two teams)
Boise High School (two teams)
Lewiston High School
The Logos School (Moscow, two teams)
Mountain Home High School
Thunder Ridge High School (Idaho Falls)
Timberline High School (Boise)
Victory Charter School (Nampa, two teams)
The following teams placed in the top four for Idaho's state tournament:
2023 State Champion: The Ambrose School (A Team)
State Runner Up: Logos School (A Team)
Third Place: Mountain Home High School
Fourth Place: Victory Charter School (A Team)
Mock trial team members who played roles as attorneys and witnesses had the opportunity to be recognized for individual awards. For each trial through four rounds of competition, each judge had the opportunity to select the students they believed gave the best performances for the trial. The top witnesses and attorneys for the 2023 competition include: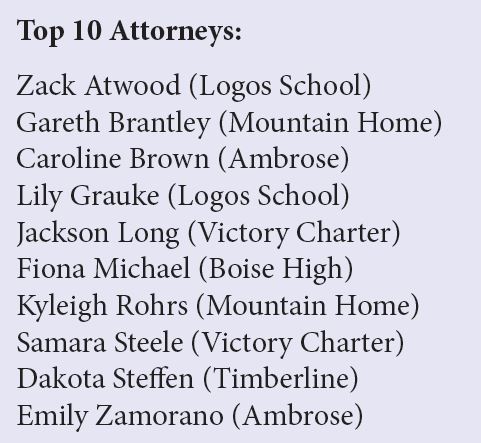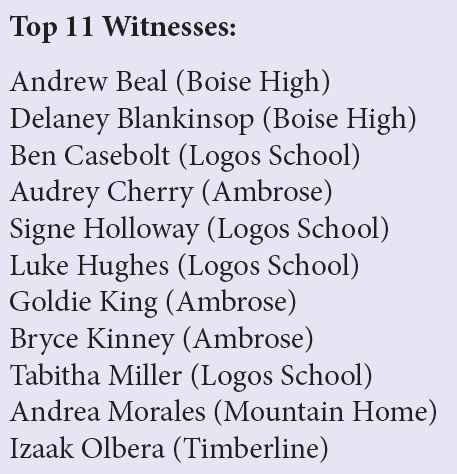 As part of the state competition, Idaho's Mock Trial Program, in partnership with the Professionalism & Ethics Section, developed the Civility & Ethics Award, created to highlight the importance of civility and professionalism among teams participating in mock trial. During the state competitions teams observe and interact with each other and submit their nomination for the award. For 2023, Logos School B Team was chosen by the other teams as the recipient of this year's award.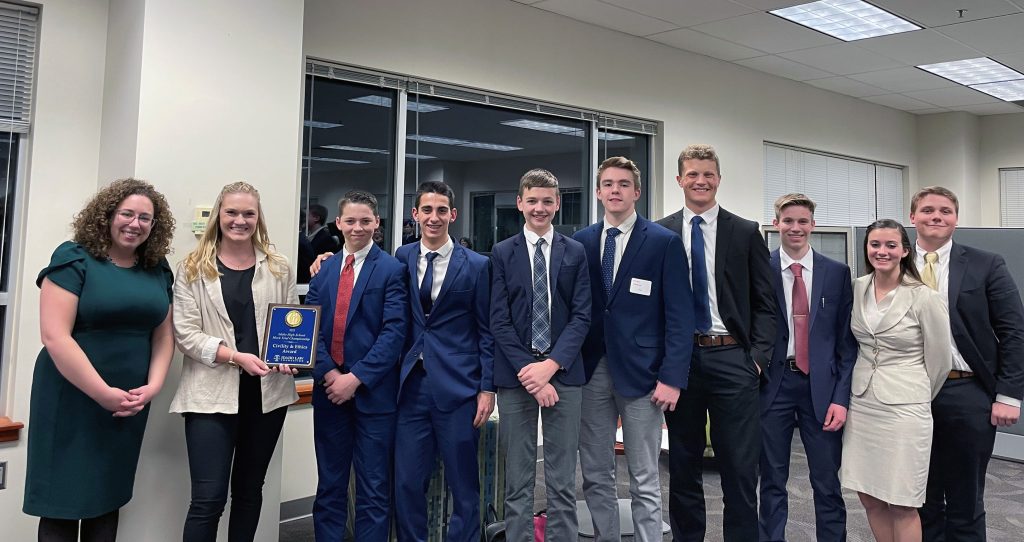 Idaho's mock trial program also hosts a Courtroom Artist Contest as part of the program. Artists observed trials and submitted sketches that depict courtroom scenes. The top three entries for 2023 were:
First Place: Taelyn Baiza (Boise High School)
Second Place: Nam Bui (Lewiston High School)
Third Place: Shalyce Graham (Victory Charter School)
The Ambrose School will represent Idaho at the National High School Mock Trial Championship in May in Little Rock, Arkansas and Taelyn Baiza will represent Idaho in the National Courtroom Artist Contest.
The Idaho Law Foundation's Law Related Education Program would like to thank the sponsors and volunteers who helped during the 2023 mock trial season. We couldn't do our important work without your support.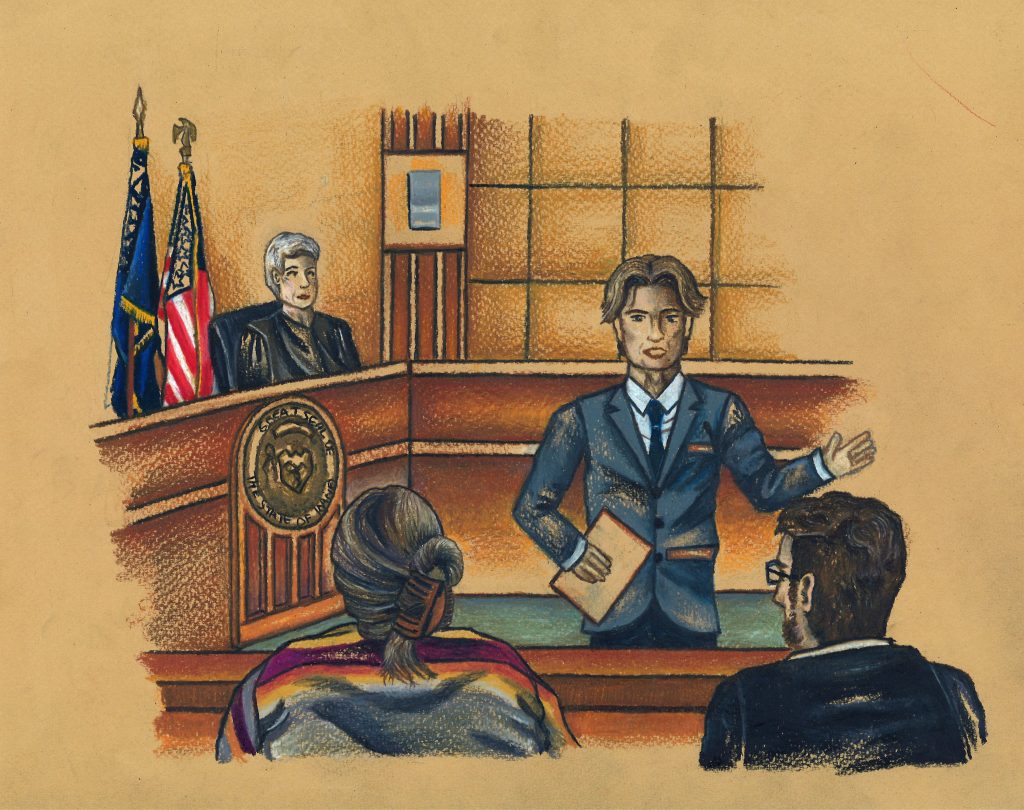 Plans will soon begin for the 2024 mock trial season. For more information about how to get involved with the mock trial program, visit idahomocktrial.org, or contact Carey Shoufler, Idaho Law Foundation Law Related Education Director, at cshoufler@isb.idaho.gov.
---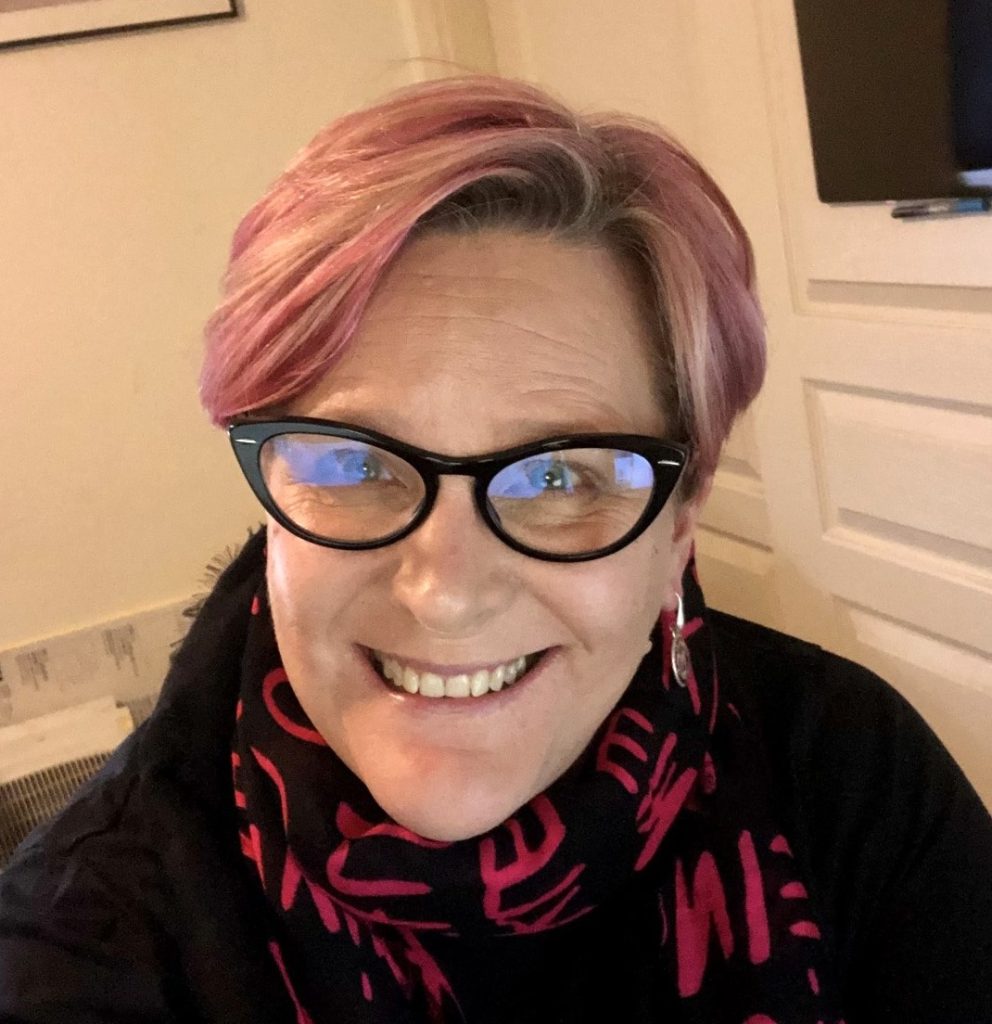 For 30 years, Carey A. Shoufler has worked in education and communications in an array of settings. In her current role, Carey has spent the last 17 years working as the Law Related Education Director for the Idaho Law Foundation. Carey utilizes her experience as an educator to provide leadership and management for a statewide civic education program. She obtained her bachelor's degree in English literature from Mills College in Oakland, California and her master's degree in instructional design from Boise State University. A native Idahoan, Carey returned to Boise in 1999 after working for 13 years as a teacher and educational administrator in Boston. When not working, Carey likes to walk her dogs, knit, read, bake pies, and spend time with her grandchildren.