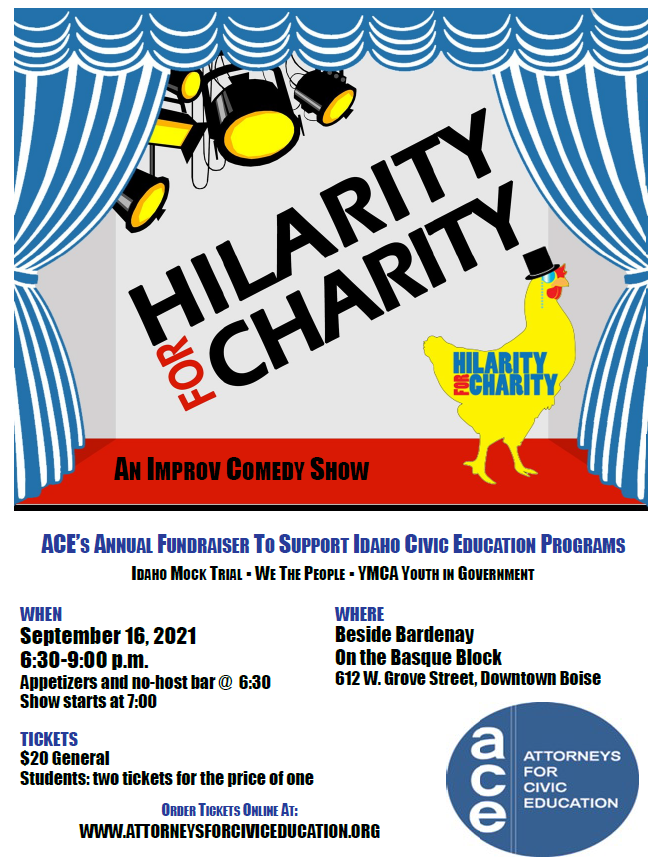 The Attorneys For Civic Education is holding its annual fundraising event: Hilarity for Charity. Hilarity for Charity is an evening of comedy improv along with appetizers and a hosted bar. The event will be held Beside Bardenay on September 16, 2021, from 6:30 to 9. Tickets are available for $20 or $10 for students on ACE's website: www.attorneysforciviceducation.org. Funds raised benefit Idaho's K-12 civics education programs including Mock Trial, Youth in Government, and We the People.
For those unfamiliar with ACE, it's mission is to increase and sustain the opportunities for civics education in Idaho's schools in order to ensure that Idaho's citizens will have a solid understanding of the Constitution, the rule of law, and our form of government. Through volunteer outreach and education, ACE is committed to supporting a quality civics education for Idaho's young people. Without that knowledge, democracy cannot succeed.
If you are interested in helping ACE to fulfill this mission, please contact the current co-chairs Kolby Reddish or Texie Montoya.