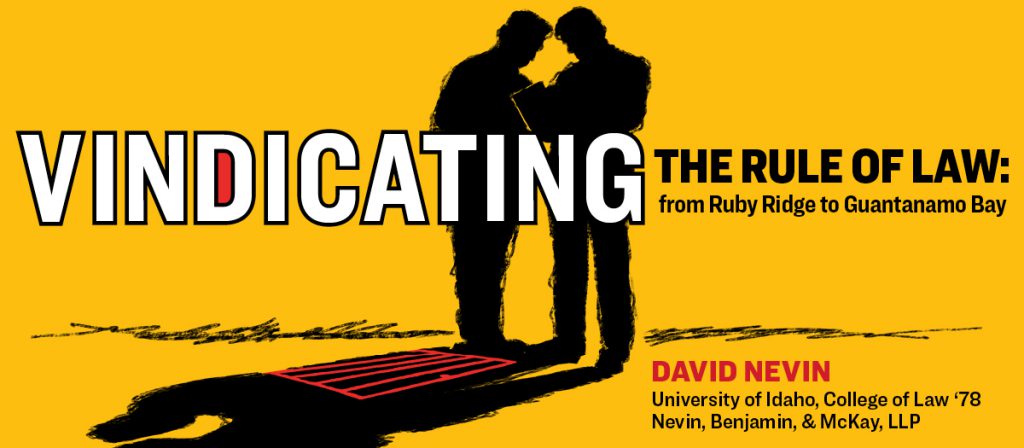 October 27, 2021 – Boise
5:00 p.m. MT/4:00 p.m. PT
JUMP, Pioneer Room
October 28, 2021 – Moscow
3:30 p.m. PT/4:30 p.m. MT
Pitman Center, International Ballroom
Moscow event will be live-streamed at uidaho.edu/live.
Registration is not required; walk-in attendance at both locations.
About David Nevin '78
Nevin has practiced law in Boise and around the country for the last 40 years. His firm, Nevin, Benjamin, and McKay, LLP, focuses primarily on the representation of criminal defendants, and other cases implicating issues of civil rights and government overreaching.
Nevin's cases include the 1993 Ruby Ridge case and the 2004 terrorism prosecution of a Saudi Arabian graduate student, Sami Omar Al-Hussayen. In 2008, Nevin joined with legendary trial lawyer Gerry Spence in the successful defense of Geoffrey Fieger, a prominent and outspoken Detroit trial lawyer charged in a vindictive political prosecution with violation of campaign finance laws. Since 2008 Nevin has represented Khalid Shaikh Mohammad in his capital prosecution in the Military Commission at Naval Station Guantánamo Bay, Cuba, arising from the attacks of September 11, 2001.
For more on this year's Bellwood Lecture, as well as information on past speakers, visit uidaho.edu/Bellwood.