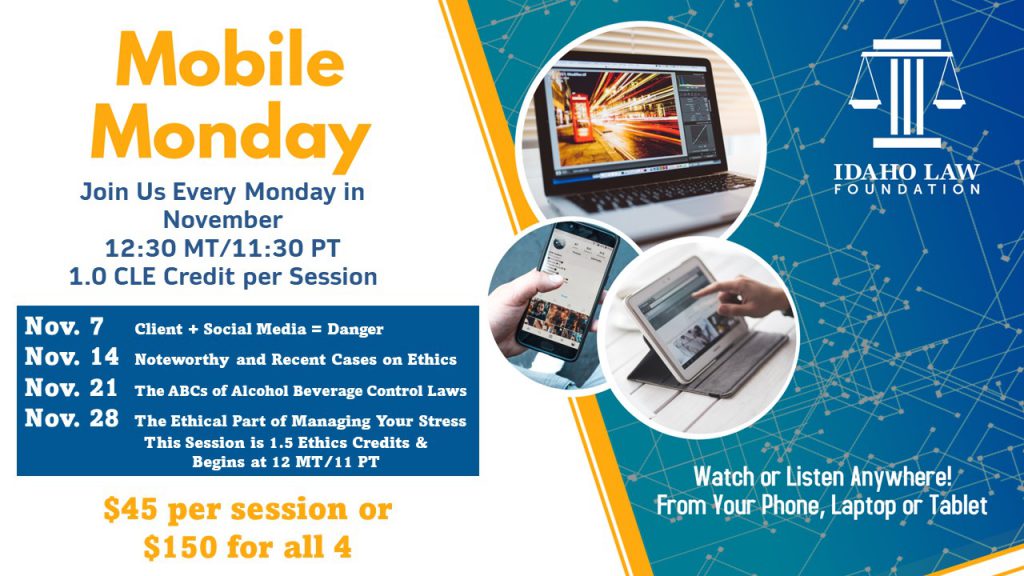 Mondays in November – via webcast
November 7, 14 and 21st – 12:30 – 1:30 p.m. (MT) / 11:30 a.m. – 12:30 p.m. (PT)
1.0 CLE Credit per Session
November 28th – 12:00 – 1:30 p.m. (MT) / 11:00 a.m. – 12:30 p.m. (PT)
1.5 Ethics Credits

$45.00 per Session or $150 for all 4 Sessions.
Join the Idaho Law Foundation every Monday in November for the Mobile Monday CLE Series. The series provides an outlet for distinguished Idaho practitioners, jurists and other industry leaders to present an array of diverse topics. The convenience of joining from your computer or mobile device allows attorneys to participate regardless of their hectic schedules or location. Still working from home? No problem – join us from your couch or your dining room table. All you need is a device to experience new ideas and continuing legal education opportunity.
To purchase the 2022 Mobile Monday Series Bundle and save $30, click here.
*The discounted bundle is still available for purchase after the sessions begin on November 7th. Access to the sessions that you missed will be recorded and offered as on-demand that can be watched at your convenience.
You may purchase individual sessions by clicking on the course links below.
Monday, November 14: Noteworthy and Recent Cases on Ethics
Brad Andrews, Idaho State Bar Counsel, Retired – 1.0 Ethics credit.
Monday, November 21: The ABCs of Alcohol Beverage Control Laws
Captain Rocky Gripton, Idaho State Police – 1.0 CLE credit – NAC Approved
Your support of the Idaho Law Foundation CLE programming provides the necessary resources to fulfill the Foundation's goal of enriching the public's understanding of and respect for the law and legal system.