Sponsor:  Idaho Law Foundation, Inc. in partnership with Destination CLEs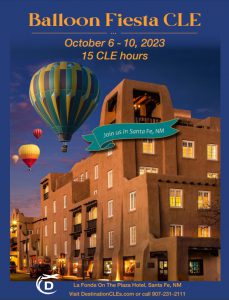 October is the most beautiful time in New Mexico. The air is crisp, and the skies are blue and glittered with the sight of hot air balloons in the air. Join Destination CLEs at this International Fiesta and get CLE, too! There will be plenty of time to enjoy Santa Fe, Taos, and the Sangre de Cristo Mountains with tours and just relaxing.
Details on the CLE courses and registration fees  can be found in the conference brochure.
CLE Sessions 
Skills for Handling High-Conflict Litigants & Opposing Counsel in Trial
Winning Before Mediation and Trial: The Art & Science-based Model & Method to Winning Depositions
Opening & Closing Doors: The Model & Method that Works
The Ethical Limits of Persuasion
Witness-Centric Home-Based Preparation
Defending Non-Defensively
Disorder in the Court: An Attorney's Guide to Judicial Misconduct
Battling Gender Bias: How Bill Cosby and other Sexual Predators Escape Punishment
Win the Big Trial with the Freedom of Information Act
Register to receive early bird rates by June 1, 2023.  For more information, please contact Mary DeSpain at 907-231-2111 or Mary@DestinationCLEs.com.