Sponsor:  Idaho Law Foundation, Inc. in partnership with Destination CLEs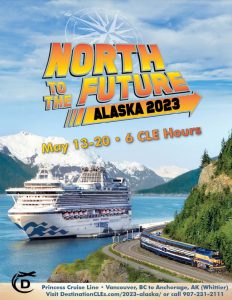 Join Destination CLEs and embark on CLE at sea on your way from Vancouver, British Columbia, to Alaskan cities, Ketchikan, Juneau, Skagway and Whittier (Anchorage) with scenic cruising through Glacier Bay and College Fjord.   This conference offers 6 hours of Continuing Legal Education credit.
Details on the CLE courses and registration fees  can be found in the conference brochure.
CLE Session include:
Case Management Tools & Thinking
Technology to Review, Research, & Write
Social Media & Other Marketing
All the Numbers: Accounting, Bookkeeping, & Performance Tracking
Hiring, Managing, and Outsourcing
Making Digital Communications Work Better
Register now for early bird rates available through February 1, 2023.  For more information, please contact Mary DeSpain at 907-231-2111 or Mary@DestinationCLEs.com.