Sponsor:  Idaho Law Foundation, Inc. in partnership with Destination CLEs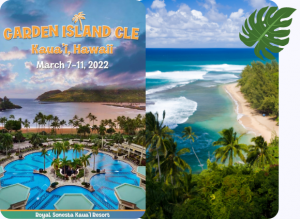 Join Destination CLEs for a warm and exciting conference in Kaua'i and earn up to 12 CLE credits.  The CLE courses will take place in the morning hours with the afternoon and evening for exploring, relaxing or other excursions.  The Royal Sonesta Kaua'i Resort is nestled amid lush greenery and has endless opportunities for spa treatments and a weekly luau.
Details on the CLE courses, speakers and registration fees are available HERE.  More detailed information can be found in the conference brochure.  The group rate for hotel rooms ends January 31st.
For more information, please contact Mary DeSpain at 907-231-2111 or Mary@DestinationCLEs.com.