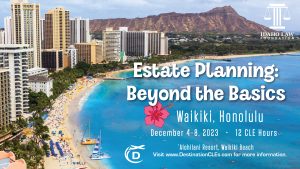 Sponsor:  Idaho Law Foundation, Inc. in partnership with Destination CLEs
Join Destination CLEs for a CLE on Estate Planning at the Alohilani Resort Waikiki Beach in  the heart of beautiful Waikiki, Hawaii and earn up to 12 CLE credits.
Waikiki Beach is known for its breathtaking white sand beaches, turquoise blue water, and backdrop of Diamond Head Crater  Enjoy some winter sun, plenty of free time, tours and CLE credit!
Details on the CLE courses and registration fees can be found on the conference website.
CLE Sessions include:
Drafting Documents, the Fees, and Follow-Ups
Trusts & Strategies of All Kinds
Trusts & Strategies of All Kinds
The Financial Planning Side of Estate Planning
Avoiding Ethical Dilemmas in Estate Planning
Wills or Trusts by Everyone?
What Not to Forget and How Not to Forget it!
For information, please contact Mary DeSpain at 907-231-2111 or Mary@DestinationCLEs.com.