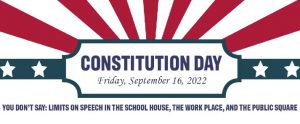 Constitution Day CLE: You Don't Say: Limits on Speech in the School House, the Work Place, and the Public Square
Sponsored by Attorneys for Civic Education and the Idaho Law Foundation
Friday, September 16, 2022
12:00 – 1:30 pm (MT)
Idaho State Capitol Lincoln Auditorium / Live Stream
1.5 CLE credits of which 0.5 is Ethics (pending)
Registration:
$15.00 for Attorneys or FREE with a one-hour volunteer commitment to Attorneys for Civic Education
FREE for Teachers, Students or Members of the Public
The First Amendment protects most speech and expression, but it does have its limits. Case law has carefully honed a handful of narrow categories where the courts have drawn the line between protected and unprotected speech and expression. Join the Idaho Law Foundation and Attorneys for Civic Education in person or virtually in celebration of Constitution Day as they welcome distinguished attorneys for an in-depth discussion on our Constitution and the limits of free speech rights. This event is open to Idaho attorneys, teachers, students, and members of the public. A recording of the event will also be made available for those who register.
Moderator:
Texie C. Montoya, Associate General Counsel, Boise State University
Panelists:
Emily D. Kane, Deputy City Attorney, City of Meridian
Daniel J. Skinner, General Counsel, Boise School District
Robert B. White, Givens Pursley, LLP


Constitution Day is a federal observance that recognizes the adoption of the United States Constitution. It is normally observed on September 17, the day in 1787 that delegates to the Constitutional Convention signed the document. A law establishing the present holiday was created in 2004 and mandates that all publicly funded educational institutions provide educational programming about the Constitution on that day.
Attorneys for Civic Education was founded in 2013 by a group of Idaho attorneys who recognized the critical importance of civic education in Idaho's schools. Uniting ACE members is a common vision: to increase and sustain opportunities for civic education in Idaho's schools and ensure the Idaho youth have a solid understanding of the Constitution and the Rule of Law. Through outreach, fundraising, and other activities, ACE is committed to supporting quality civic education for Idaho's young people. More information about ACE can be found at attorneysforciviceducation.org.
The Idaho Law Foundation is the charitable arm of the Idaho State Bar. As a program of the Foundation, Law Related Education is a statewide civic education program that works to enhance public understanding of the legal system and bring together attorneys and teachers to help students of all ages understand the role of law in a democratic society. For more information, visit idaholawfoundation.org.