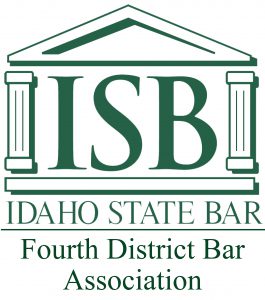 2021 Fourth District Bar Association Spring Case Review
Sponsored by the Fourth District Bar Association
March 10th and 11th, 2021
10:00 a.m. to 1:00 p.m. (MT) each day
Day 1 – 3.0 CLE Credits – NAC Approved (pending)
Day 2 – 3.0 CLE Credits including 1.0 Ethics and 2.5 – NAC Approved (pending)
Registration: FREE – Open to All Members of the Idaho State Bar
*Live Webcast Only
The Fourth District Bar Association invites all members of the Idaho State Bar to its Annual Spring Case Review.  The CLE will be held virtually over two days, Wednesday, March 10th and Thursday, March 11th from 10:00 a.m. to 1:00 p.m. each day.
The line-up of speakers includes a practitioner in each practice area who will present current case law updates.
The Fourth District Bar will also take a few minutes to hold its Annual Meeting where they will announce the new officers for 2021-2022 and will discuss the state of the district.
AGENDA
Wednesday, March 10, 2021
10:00 a.m. – 10:30 a.m. Employment Law – Jennifer A. Hearne, J.A. Hearne Law, PLLC
10:30 a.m. – 11:00 a.m. Torts –  Kevin A. Griffiths, Scanlan Griffiths Aldridge & Nickels
11:00 a.m. – 11:30 a.m. Criminal Law – Gabriel J. McCarthy, Canyon County Public Defender's Office
11:30 a.m. – 12:00 p.m. Workers' Compensation – Taylor L. Mossman-Fletcher, Mossman Law Office, LLP
12:00 p.m. – 12:30 p.m. Estate Planning – Sean R. Beck, C.K.  Quade Law, PLLC
12:30 p.m. – 1:00 p.m.   Business and Corporate Law – David S. Jensen, Parsons Behle & Latimer and Christina Hardesty, Parsons Behle & Latimer
Thursday, March 11, 2021
10:00 a.m. – 10:30 a.m. Real Property – T. Hethe Clark, Clark Wardle, LLP and Ryley Siegner, Clark Wardle, LLP
10:30 a.m. – 11:00 a.m. Evidence – James K. Dickinson, Ada County Prosecuting Attorney's Office
11:00 a.m. – 11:30 a.m. Family Law – Mackenzie E. Whatcott, Cosho Humphrey, LLP
11:30 a.m. – 12:00 p.m. Bankruptcy – Jon B. Evans, Stoel Rives, LLP
12:00 p.m. – 1:00 p.m.  Ethics – Bradley G. Andrews, Idaho State Bar